I am suggesting a Veteran Reward System for giving subscribers and DLC buyers the same perks based on how much money they have spent on ESO.
Money is money regardless if it is spent by subscribing or spent on crown purchases. If two players spend the same amount of money, they deserve the same perks.
This disparity between DLC buyers and subscribers must stop because it is causing strife between players and developers and weird monetization due to the worry of what a purchase is worth and what should be locked or unlocked.
Please ignore the weird blue snowflake over some of the text. I didn't want to go back and re-do the picture.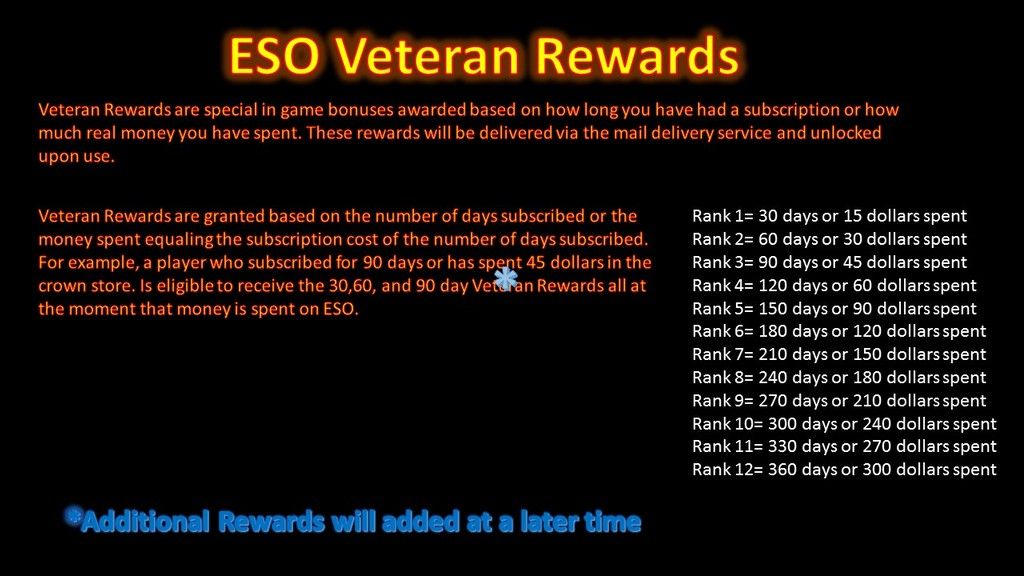 Now comes the fun part! What Veteran reward perks should be and how and in what order should perks be unlocked during the timeline. I am going to start with one and I hope each of you adds some cool perks to the list and come back and add some more input! We all win in this system and it puts players on a more even playing field. And it stops ZoS from being the bad guy by having to cater to one group and disservice the other.
The Veteran Rewards start kicking in on purchases following purchase of the base game. Monthly crowns and free playable DLC rewards only given to subscribers.
My Veteran Reward wish:
Rank 1: Any race, any alliance
Rank 2: Unlock Imperial race
Rank 3: One free mount and Costume
Rank 4: Increased experience points and gold gain by 5%
Rank 5: Increased crafting research & Inspiration by 5%
Rank 6: Crafting Bag
I am going to stop at rank 6, because I don't know what else to suggest and I want to see your suggestions first.