I was looking a bit at the numbers and I feel like Inferno Staff is under performing while Lightning Staff is over performing with Sergeant's Mail. I ran some comparisons between Bow, Inferno Staff, and Lightning Staff and I'll list them below. I wanted to compare single target damage numbers. I went into this feeling like Inferno staff should be far superior to Lightning Staff in single target damage (given Lightning Staff also cleaves in a fairly large 5m AOE) and that Bow should be fairly close to Inferno Staff in numbers. Let me know what you think.
----Heavy Attacks + Champion Points----Bow
Inferno Staff
Lightning Staff
First, I tested just straight HAs on a target dummy to get a baseline. I know the dps numbers are low in general, but it seems like Bow is really far out in front (no doubt thanks to
Hawks Eye
passive). Also, Lightning Staff seems to have a nice 60/40 split on HA damage/channel damage. I think that makes sense and there is some rng in crits to allow for small variations, however it seems like Inferno Staff performed lower than expected for single target damage.
----Heavy Attacks + Oakensoul + Champion Points----Bow
Inferno Staff
*there seemed to be some bug in cmx and I couldn't get the Oakensoul buffs to show...
Lightning Staff
Next, I tested HAs with Oakensoul. With the 100% uptime of Empower and the prevalence of HA builds recently, I wanted to get a feel for how Oakensoul increased the numbers and if anything stood out. It looks like Oakensoul more than doubles the dps, which is kind of expected given all the buffs! Some things I thought were interesting to note are that Bows seem to be the clear winner here and Inferno Staff is still much lower than expected. Also, Lightning Staff still seems to have that nice 60/40 split.
----Heavy Attacks + Sergeant's Mail + Champion Points----Bow
Inferno Staff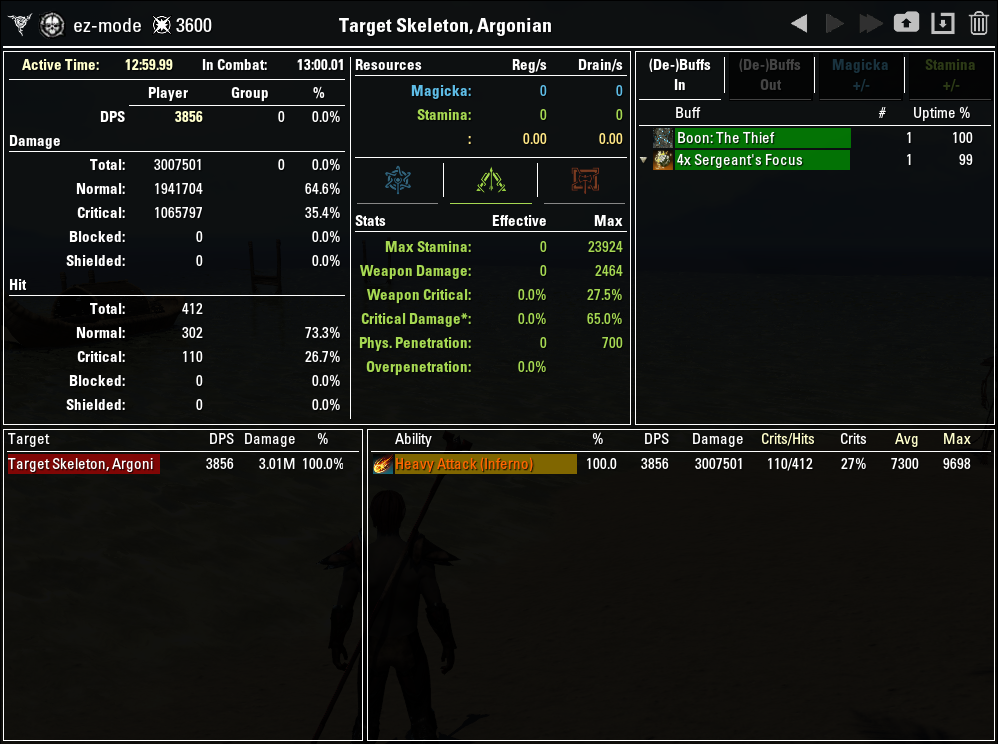 Lightning Staff
Finally, I tested HAs with Sergeant's Mail. Here's where things went a bit wonky imo. Now, we see that Lightning Staff is dominating both Inferno and Bow in single target. Notice that the channel on Lightning Staff has almost completely swapped to 40/60 and the channel is doing more damage than the actual HA! I suppose that makes sense given that
Sergeant's Mail
increases the HA damage and the channel counts as part of that HA damage... Also, again, we see Inferno Staff pulling up the rear. Seems a bit harsh for Inferno Staves to be so low given their passives seem like they should be the kings of single target damage.
Now, first off,
I realize that not all HAs need to be in balance
. However, imo, it felt a bit weird for a Heavy Attack 5-piece set like
Sergeant's Mail
to favor 1 specific weapon so much. I realize that sets like
Hawk's Eye
exist and 5 piece sets CAN favor a specific weapon. However,
Hawk's Eye
is a BOW set; it very specifically is targeted for BOW builds. Sets like Sergeant's Mail are not DESTRUCTION STAFF sets, so I think it's fair to run a comparison with other weapons and see how they fair. The set
Spider Cultist Cowl
exists and would be more specifically targeted for Destruction Staves.
I think the Tri-Focus passive could increase Inferno Staff Heavy Attack damage from 12% -> 25%.
Sergeant's Mail should no longer buff the channel damage from Lightning Staff. I feel like the intention of the Sergeant's Mail set is to buff the HA damage. Lightning staff is now the only weapon that has a unique channel that's part of its HA damage (yes, I know Restoration Staff exists, but it specifically has a nerf now). That channel damage almost completely offsets the longer duration to HA as the damage is constant, and with Sergeant's Mail, now more damage than the actual final hit. Perhaps the channel damage needs to be a flat damage
I think the overall DPS of Lightning Staff could be lowered to be more comparable to Ice Staves. In testing Ice Staves, the damage was substantially lower than the other 3 so I didn't include them above. I think it makes sense for their damage to be lower since Ice Staves have the side effect of a damage shield and are more defensive than offensive. However, at the moment, Lightning Staff single target damage is comparable to other range weapon damage, and even surpasses Inferno Staves! This makes the cleave damage all gravy and Lightning Staves the obvious clear choice for HA damage, outside of extremely niche flame damage builds. I think the AOE cleave damage should be incorporated in evaluating the ranking of Destruction Staves and atm it doesn't seem to be viewed as a benefit!