Greetings, I've been playing around with this build for a little while in anticipation of the cancer known as champion points being once more striken from out beloved battlegrounds.
Since the changes to disallow the use of Shuffle with heavy armour, I've been playing around with the idea of running a set like Armour Master or Fortified Brass in order to maintain durability, while still having access to snare removal and Rally. The end result being a build that feels pretty well balanced in terms of durability, mobility and damage output.
As far as stats go, fully buffed you are looking at:
Buffs used
Hurricane, Rally, Weapon Enchant, BloodSpawn and potion proc.
Unbuffed stats are as follows
So first of all the gear, 5 Fortified Brass, 2 Blood Spawn, 5 Unfathomable Darkness and an Asylum Battleaxe.
Fortified Brass
We run 5 pieces of Fortified Brass in the main body slots. Optimally you will want to run a heavy chest and legs to maximise your defenses, but really it doesn't matter too much as we will already be overcapping resists with our other gear.
As far as other options go, you can run Armour Master, but I'm not a massive fan of it, given that it forces you to recast Shuffle every 10 seconds to retain the resists, which hurts your overall durability and sustain.
Unfathomable Darkness:
We run 3 pieces of Unfathomable Darkness Jewellery and a Sword and Shield on our front bar. This is where we are getting a lot of our damage from. Crit, Penetration and Weapon damage is about the best possible 4 piece you could ever ask for in terms of raw offensive stats, and the proc from the set is going to give us a nice chunk of extra damage that does not require resources. The proc also sticks around if you bar swap, meaning that when you switch over to your back bar to finish someone off, your birds are going to stick around. Additionally physical damage from the birds works well with our passives.
As far as other options go, pretty much any medium 5 piece proc set can work, but honestly I'd say Unfathomable is probably your best bet.
Blood Spawn
I run Blood Spawn here for a number of reasons. Firstly, unique one hand an shields are pretty mediocre, so a monster set is going to be better. Secondly this set offers you so much here. The one piece stamina recovery helps to fill out our build sustainwise, and the proc on the two piece is going to boost us up to the resistance cap, and will help to generate a bunch of ultimate. Honestly, you can run pretty much whatever monster set you like here, but I feel like Blood Spawn is the best all round option for this build.
Asylum Battleaxe
This is our back bar weapon, and what we use to kill people. I like the Asylum weapon for the extra ultimate generation, letting me get my ults up faster, which is especially useful, given that we are pretty reliant on them to pick up kills, given that we are not a super high damage build. Again, in all honesty, any one piece two hander works here, just use whichever you feel most comfortable with. Sword, Axe or Mace is also personal preference, I just like having access to a bleed to help proc Implosion a bit more frequently.
Abilities
Front Bar:
Heroic Slash
Reverb Bash
Shuffle
Hurricane
Dark Deal
Absorbsion Field
Heroic Slash is pretty much our spammable in this build. It hits pretty hard, has a fairly low cost, reduces enemy damage by 15% from minor maim, snares, and gives us more ultimate. This ability is disgustingly overloaded, and even weaves pretty well with heavy attacks
Reverb Bash is our on demand stun for the build. It also exists to backhand scumbag healers and infect them with major defile to help cut down their healing and make them less obnoxious. Use it whenever someone needs to be put in their place.

Shuffle is one of the cornerstones of the build. 15% to dodge incomming hits is fantastic in of itself, especially given our base durability, along with Minor Maim from Heroic Slash. However, the real reason we take this skill is for the snare removal and immunity. Snares are disgusting, and playing without a way to mitigate them is an exercise in frustration.

Hurricane is one of the reasons that you play a Stam Sorc. AOE damage, resists and move speed, all rolled into a single ability is frankly amazing. This will also proc implosion and pull Nightblades out of stealth. If you don't run this on a Stam Sorc there is something wrong with you.

Dark Deal rounds out our front bar, as a tool to help us sustain. This skill gives us 4k health and 5k stamina per cast, for the low cost of a bit of magicka. It is the reason we can get away with running lower levels of recovery on this build than other non-cp builds. However, this skill can be interrupted, leading to you being stunned and put off-balance, so careful use is needed. Popping a couple of Dark Deals between fights tends to be more than enough to keep you topped up, and stunning someone with Reverb will also give you a second or two to Dark Deal up.

Absorbsion Field is our front bar ultimate, and acts as our defensive ultimate, and a way to disrupt the enemy. The healing offered by this ability is actually pretty underated, given that it will apply to every ally in the bubble, and ticks every half second. Aditionally using this ability will remove all ground effects, so it's a nice way to get rid of things like Corrupting Pollen or Caltrops that can make fighting on an area annoying. Finally the silence this ability applies turns pretty much all magicka builds into useless sacks of health, so dropping it when you have a Mag DK spamming Talons onto you, or over a couple of Templars spamming breath can turn a fight around. People also don't like fighting in your bubble, so it can serve as a way to get people off of you to allow for recovery. You can run Shield Wall or Overload here instead, but honestly, I feel like Absorbsion Field offers more.
Back Bar:
Crit Charge
Reverse Slice
Streak
Resolving Vigor
Rally
Dawnbreaker of Smiting
Crit Charge is our gap closer. I haven't listed a morph here, because honestly it is up to you to choose which you prefer. Stampede is probably the better morph at this point, but I have always valued the extra damage from Crit Rush, given how you can use it in combination with a heavy attack as a psuedo spammable burst combo. Either way, this ability is here to let us dive into the thick of things, and to run down fleeing foes.

Reverse Slice kills people. Do I need to say more?
In all seriousness, this ability gives us ultimate for executing people with our Asylum two handed, and the splash damage in melees can net you some neat kills, especially in conjunction with Implosion. The extra damage from Executioner is not really worth it.

Streak is the other reason to play a Stam Sorc. It gives us unparalleled mobility when paired with dodge-rolls as well as major and minor expedition. Our Magicka pool lets us cast two consecutive streaks, but after that we are pretty much running OOM, so careful use is important. Streak over Ball Lightning since projectiles tend not to be too much of an issue, and the stun can make slipping out of a bad fight that much easier.

Resolving Vigor is a nice big meaty stamina heal. It is also a useful tool for helping allies. Crit rushing an enemy and then popping a Vigor or two is a really nice way to ruin a 1v1 for the guy who isn't on your team.

Rally gives us Major Brutality, buffing up our weapon damage. It also gives a small heal over time, along with an on-demand burst heal. The entire point of this build was to be able to run Shuffle and Rally together without losing durability, so it would be silly not to run it.

Dawnbreaker of Smiting smites people. It's a hard hitting, undodgeable AOE stun. This is what we use to drop people along with Reverse Slice. At a cost of 107 ultimate, we tend to have this available to us most the time due to all the ultimate generation we have. The damage over time portion of this ability is also fantastic for us as it too will proc our implosion passive. Oh an the ability gives you more weapon damage just for slotting.
Traits and Enchants:
Personally, I run Infused on my body and legs with Prismatic glyphs, with Impen on the remaining pieces with Stamina glyphs, though dropping the Infused pieces for more Impen, or a well-fitted piece is up to you. Prismatic Glyphs on the armour are rather nice, given that 2 Infused Prismatic glyphs are equal to a regular health, stamina and magicka glyph, though based on how much you are willing to spend, again it is up to you.
On my jewelry I run two Weapon Damage Glyphs and a Stamina recovery Glyph, though depending on how good you are at weaving heavy attacks and managing Dark Deal, I'd say you could get away with an extra Weapon Damage Glyph.
For weapons, I run an Infused Sword and a Sturdy Shield. A weapon damage enchant is probably the optimal choice for the sword, but ultimately that is up to you. As for the back bar, I run Precise for a bit more reliability in crits with Reverse Slice, Dawnbreaker and Rally, though Nirnhoned is probably the more optimal choice. An Oblivion damage enchant is nice to have here to help deal with Sorcs, though running poisons is more likely the optimal setup.
As for consumables, run Dubious for your food, and go with Immov/Speed/Stam pots, though having other potions available is nice
Mundus stone is Warrior for more damage.
Questions for dummies:
How u sustain??? 1570 Recovery along with Potions and Dark Deal has been more than enough. For everything else, weave heavy attacks.
Ur Damage looks bad! Yes, that is to be expected on a balanced build in non-CP. However, it seems to be enough.
Wat race?? Any stam based race works, I go Bosmer because I have butterlegs so the fall damage reduction is good.
How u kill ppl??? Rotate buffs, Heroic Slash plus Heavy weave to drain enemy resources, then reverb, Dawnbreaker, Reverse Slice.
And because people like that kind of thing, have a video of the build in action.
It isn't the cleanest gameplay, because I am rusty, and not that great of a player, but it shows off what you can do with the build pretty well.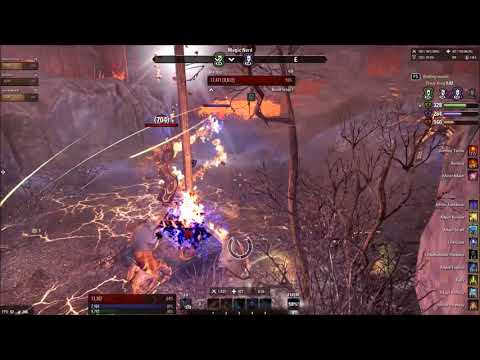 https://www.youtube.com/watch?v=wx8h0-Ku9WM
If there are any question, feel free to ask below.