MAGICKA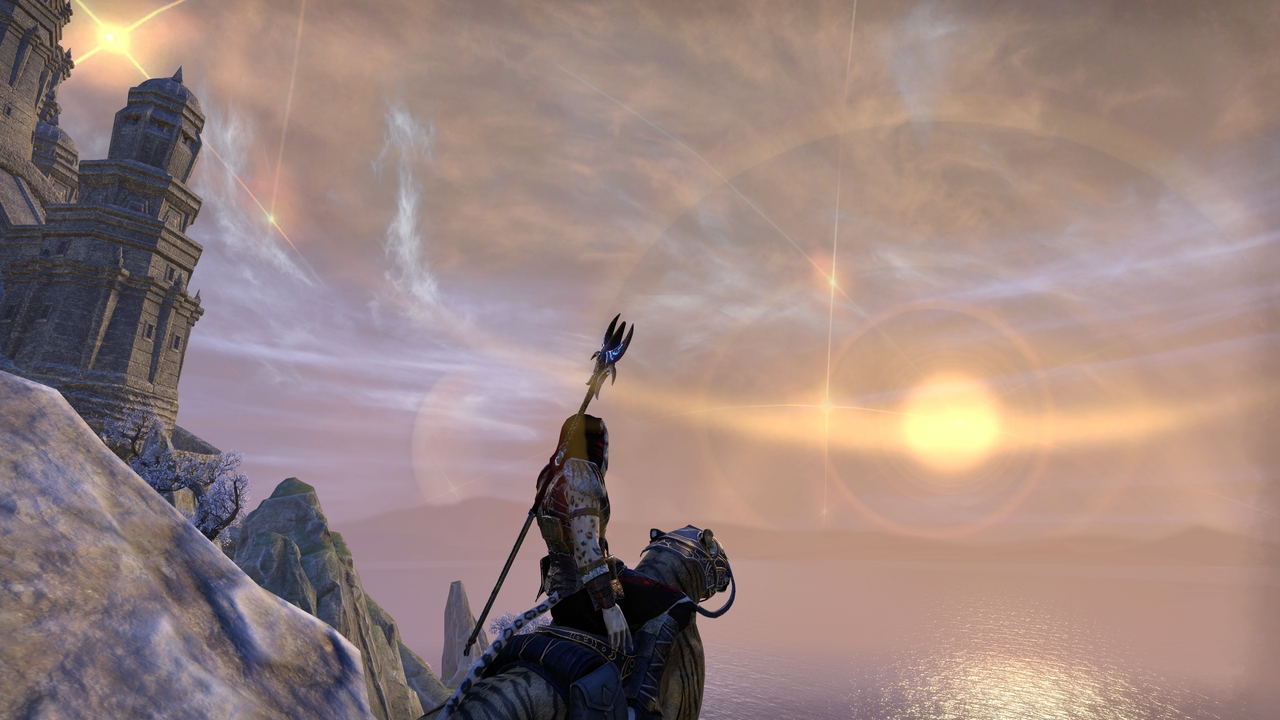 INTRODUCTION
From the reaches of Aetherius, to the mortal realm Mundus, comes that which we call magicka. Magicka is the invisible force that holds together the land of Tamriel; the land which we all hold so dear. The threads of magicka flow, weave, and breathe throughout all of Nirn. It is what draws us to Tamriel, lets us explore it, and gives us the strength to in it survive - even thrive. One looks to the High Elves in the starry fields of Summerset, and sees them channeling light in their ancestors' names. One looks to Skyrim and its bitter cold, and sees the heroic Nords combating mythical beasts in their lairs. One looks to the windy deserts of Hammerfell, and sees a Redguard scout reactivate age old dwemer construct. Just as the living machines of the Dwemer would not be as they are without the power of magicka, the beasts of Skyrim too are sustained by it. Indeed, the elves of Summerset – and every last one of us – are as well. All of these things would not be possible without the power of magicka, and it is in honor of that magical essence - and the world it brings us - that we name our guild.
DESCRIPTION
Magicka was one of the very first guilds in the Elder Scrolls Online, created during the early days of the PC beta. Magicka was then founded in the full PC release under the leadership of
Marginis
. At console release, Magicka expanded beyond PC to console, formed on Xbox One by that very same
Marginis
. Originally ESO's premier PC roleplaying guild, Magicka now stands as one of ESO's most well-known and longest running guilds on Xbox, striving to hold true to the tradition set by our first members - to be the best place for ESO roleplaying on console.
Magicka exists as a haven for all sorts of adventurers, to assist them in all sorts of ways. Our aim is to provide players the support they need to have fun with the game, whether they want to try RP for the first time, are an old hand at RP and want to try it in a new setting, or just want to see what Magicka (or RP) is all about. We delve dungeons, war in Cyrodiil (we primarily fight for the Aldmeri Dominion faction in PVP), and sometimes just hang out around the guildhall and chat. This said, we do exist primarily as an RP guild, so the main thing we do is RP.
For those that do not know what RP, or
roleplaying
, is: For ESO, it basically means that while you are in-game, you play as though you
are
your character. You are no longer a gamer playing E-S-O. Instead, you are Tskune the Great, high warrior of the land, adventuring across the expanses of Tamriel! In other words, you do not look at the game in terms of it being a game, with skill trees, stats, and levels, but you look at it as a real world like our own ...with the exception of having magic and talking cat people. As your character, you do not have skills on an ability bar - you might simply have the use of certain magicks. Instead of having a certain level, you might think of yourself as being particularly skilled (or unskilled) at a craft or combat style. When speaking or acting in-game too, you play as though you are your character. This could mean speaking with a hiss as an Argonian or referring to yourself as "this one" as a Khajiit. It could also mean a different personality or quirk to the way you act, anywhere from being grim and serious as a hardened mercenary to dressing up in a chef outfit and serving everyone sweetrolls at gatherings. The only limits are your imagination (and adherence to guild rules, of course). For some, this kind of thing comes naturally. Others take time to learn it. Regardless, RP allows all of us to much more fully immerse ourselves in the world of the Elder Scrolls Online, and because of that, we enjoy playing ESO in a way non-roleplayers never will. This is what our guild is all about.
Speaking of roleplay, Magicka being an RP guild, we encourage our members to be IC (in-character) in most guild settings. While we do not require RP all the time, and we are quite understanding of new RPers or players with limited English, Magicka strongly encourages staying in-character, at least when in guild chat or at guild events. If speaking OOC (out-of-character), use an OOC voice chat channel or use brackets [ ] (or something similar) to denote that you are speaking OOC. Tamriel is a rich world full of many wondrous things - you would not want to ruin the immersion by talking about frame drops and the PVP meta, would you? If you have trouble or are new to ESO RP/console RP, however, do not worry. There are plenty of Magicka guildmates more than willing to help you learn the ropes. Additionally, while old hands at RP are a welcome addition to the guild, please remember that Magicka has its own quirks, so even if one is a roleplay veteran, they may need to adjust accordingly.
RP aside, Magicka is and always has been a teamwork driven community, with veterans helping fresh-faced recruits, Dunmer fighting side by side with Khajiit, and bards entertaining even the most mirthless warriors. And although Magicka is based in the Aldmeri Dominion - where the magicka flows strongest - we welcome with open arms all races and all alliances: warriors, mages, rogues, and wanderers alike – yes, even Argonians. This applies equally to the players behind the characters. We are based on the NA servers (sorry EU players), but we gladly host players from all across the world, from Russia to Australia to the US to the UK. It does not matter if you are young or old, black or white, gay or straight, casual or hardcore, really into
Harry Potter
or more of a
Twilight
fan, Magicka will gladly welcome you into our family (though we reserve the right to silently judge you for being a
Twilight
fan).
It should also be mentioned that while Magicka does not have any requirements or regulations regarding such, our guild colors are blue and gold, and we use the
symbol
for
alteration
as our guild emblem when the option is present.
GENERAL RULES
The guild rules are simple, and can be good guiding principles in most circumstances - even when in Tamriel outside the Magicka community. Like the threads of magicka that flow through Tamriel, they can be equally separated into individual elements, but once together, come to be as strong as the invisible tethers binding Aetherius to Nirn.
Storm

- Follow guild rules, Elder Scrolls Online terms, Xbox Live policies, and real world laws. If you support anything against guild rules, Elder Scrolls Online terms, Xbox Live policies, or real world laws, do not promote it within the Magicka.



Frost

- Magicka is a friendly guild, to all sorts of players, so be respectful of other people's viewpoints and be mindful that you don't start anything that could be construed as harassment. In Magicka, we treat each other with kindness. No exceptions. While one need not always be mature, one must always be respectful.



Flame

- For anything not specifically noted in the charter, the guildmaster's and guild officers' say is to be treated as official guild rule.
Failure to follow the rules set here can result in demotion, exile from Magicka, exile from the guildhall, or a warning, of which there may be only one. Magicka can be a powerful blast, a gentle breeze, or a flowing river, but one must stay focused when using it, or the backlash can prove fatal.
RP RULES
Magicka, being a roleplay guild, also has rules dedicated to RP. Unlike our general rules, however, RP contains so many lessons and etiquettes it is difficult to classify them into simple categories. Instead, we opt for a list of guidelines. Some are specific to Magicka, some are generally followed by the RP community, and some are less rules than recommendations.
If you are in a chat channel that is In-Character, please stay in-character.

If the chat is Out-Of-Character, respect the choice of others to not speak in-character (although one may still choose to speak in-character - we would never say no to more RP).

If must speak OOC in an IC chat channel, do something to denote that you are speaking OOC. We recommend enclosing the text in brackets for text chat, and a different voice for voice chat.

Use proper microphone etiquette. If your mic is disruptive and you are in voice chat, mute it until the issue is fixed.

Do not try to voice RP at a text-only RP event, or try to text RP at a purely voice RP event.

Unless doing a hybrid text/voice chat RP, keep voice and text conversations separate. No one should feel left out because they do not want or are unable to use a certain chat method.

Keep character identities separate from player identities. Just because a character feels a certain way about something does not mean their player does or should.

Introducing overt sexual content into the guild is prohibited. Keep said content private. Magicka is an RP guild, not an ERP (erotic roleplay) guild.

Do not powergame. This means that while edgy characters are okay, understand that going as far as RPing "overpowered" Mary Sue-style characters make RP less fun for everybody... so avoid that.

RP is a collaborative effort. Aside from rare, special circumstances, there is no main character to an RP.

You only decide how your own character acts. Do not tell others what their character is should do or be like.

Treat RP like improv - "yes and" your fellow RPers. If you don't know what that means, google it.

Be lore friendly. While one's character and backstory need not be explicitly in-lore, they should not explicitly contradict established Elder Scrolls canon.
If there is any question as to whether something is appropriate RP-wise (or otherwise), ask a guild officer (or maybe just another guildmate). Oftentimes, one will gently let you know. Keep this in mind, as this is not an extensive list; It will be updated as time goes on, and questions come up.
EVENTS
There are two types of events in Magicka. Most events in Magicka are "unofficial" events. These events are put on any member who wants to hold an event, and are normally just set up on the fly. If you want to hold an unofficial event, just invite people to join and have fun! The second type of event is the "official" kind. An official event is just one that is made publicly available for all guildmembers, and has been posted in the Message of the Day with some advance notice. Official guild events can also come with other benefits, like guild prizes or event setup assistance. Importantly, all official RP events will occur with the expectation that exclusively text chat will be used, and any events where voice chat or hybrid chat will be used, will have that specified.
Here are some of the official events Magicka has put on in the past, and may hold again (these are also just fun ideas for events in general!):
Kha'jiri's Storytime

- The first regularly occurring event in Magicka, affectionately named Kha'jiri's Storytime by the first attending members; everyone meets up somewhere in Tamriel to share stories of their adventures and exploits. This is a chance for newcomers to hear about the history of Magicka and how it began, for new RPers to develop their backstories, and for everyone to have a good time doing something outside of their daily grind. Everyone has a story to tell, this is a chance to tell one of yours.



Landmark Celebration

- When the guild reaches a new landmark, whatever that special occasion is, we pick a time to gather somewhere in Tamriel and take on an anchor, or other such populous world event. In between bouts of fighting and celebrating, we can all take a breather and parade the guild colors around a nearby city, maybe even recruiting a few passerby into the guild and our celebration.



Storyline Event

- Magicka is a storied guild with a long history, interwoven with the tales of its members and the timeline of Tamriel. The story, however, is not over yet! There will be times where members of the guild come together to weave new stories into Magicka's lore. Each event will be different, but each will have a plotline and an impact on the guild. Any storyline event must be officially sanctioned by the Founder, and will be posted with more advance notice than normal.



Fashion Show

- The true ESO endgame: fashion. What better contest is there than to be judged by a panel based solely on appearance? Walk the catwalk, show off your moves, and be judged in several categories for a chance to win some prizes. Who knows - you might even impress the guild's resident fashionistas.



Murder Mystery

- Someone has been murdered! A mystery set up by the event holder, the goal is to work together (or against each other) to try and figure out whodunnit. It could be anyone, so trust no one.



Festivity Festival

- When the spirit of festivity is in the air, Magicka likes to get together and hold a ball, gala, party, or... well, you get the idea. Whatever you might call it, it is a way to relax from the combat, questing, and inventory management. Be sure to bring a fancy outfit or two, hotbar your emotes, and pay attention to the theme! If it is a costume party, bring a costume. Masquerade ball - wear a mask. Winter festival - dress warm!



Scouting Mission

- While Magicka tends to extricate itself from matters regarding the alliance war, there are times when Cyrodiil beckons. Whether for skyshard hunting, exploring the vast expanse in the middle of the continent, or begrudgingly involving ourselves in alliance matters, Magicka, like many guilds, sometimes decides to answer the call of PVP. Make sure to be on a character of the specified alliance (alliance will be noted in the event posting) and bring your best gear (guildmates may be able to help you with this if you need assistance).
RANKS
Ranking in Magicka, like the rules, is fairly simple. Ranks denote what permissions Magicka members have available, and with that, what responsibilities and authority they carry within the guild. While the names and number of ranks have changed over time according to our needs, these core three have always been represented in some form or another.
Seeker

- Full members of Magicka, Seekers are the majority of guildmembers. The name "Seeker" comes from the purpose of Magicka's first members - to find whatever they are seeking. Think about what your are seeking: Friends? Teammates? Free teleports? Think about what your character is seeking: A night out in the tavern? A rollicking adventure? Sweetrolls? Everyone is seeking something, and Magicka's Seekers get the full backing of the guild for whatever that thing may be.



Keeper

- Veteran members of Magicka, Keepers are those that have proven Magicka is their home. The name "Keeper" originates from the founding of the guild, being the title given to Magicka's first officers. Keepers have sought with the others, but having that experience, now help their fellow guildmates by keeping Magicka's tenets. This rank is charged with keeping Magicka on the right path.



Leader

- Leaders of Magicka are just that - guild leaders. They lead Magicka, and are in charge of just about all guild management. As such, they have effectively the same position as the guildmaster, although if necessary, specific rank is determined by seniority. Each Leader is handpicked, and chosen by the guild, and as such, should be treated with the same respect and authority as the Founder himself.



Founder

- This rank denotes the first Leader of Magicka. Also referred to as Magicka's guildmaster, Kha'jiri may be a bit fluffier than your average guildmember, but is not terribly special otherwise. He is in charge of all the guild infrastructure behind-the-scenes, as well as normal guild Leader functions. Just as important, any member of Magicka, new or old, is always welcome to come to him with any question they have and get an answer... so long as they do not mind waiting until he is done napping and/or chasing butterflies.
COUNCIL
All Keepers, Leaders, and the Founder, are guild officers, and collectively, the guild Council.

Magicka sometimes holds guild meetings and guild votes. Guild meetings can be attended by anyone in the guild unless otherwise noted, and are to be used strictly for guild business. The proceedings are led, directed, and moderated by the most senior officer of the highest rank present. All guildmembers have an equal voice at these guild meetings, but only officers may vote on measures. Official guild votes are only to take place at guild meetings. Each officer has exactly one vote, and all votes are of the same worth. At the time a measure is put to a vote, each officer has the choice to vote for the measure, vote against the measure, or abstain from voting. Once a vote is cast, it cannot be taken back. In the case of a tie, the Founder's vote decides the result. In the case of a tie where the Founder abstained, the Founder must cast their ballot in a way that decides the outcome.

Guild officers have special channels of communication in-game and elsewhere. These officers' channels are to be used strictly for guild business. If something discussed in officers' chat is of a sensitive nature, it may not be expressed outside these officer channels (breaking of this rule is cause for reprimand up to and including blacklisting from the guild). If unsure whether material is sensitive or not, ask.
PERMISSIONS
Guildmembers have different permissions within the guild, and depending on the permission, there are specifics as to how we use it in Magicka. Please note that this section will only cover permissions that could be relevant to your rank and that are not covered in their specific sections. Furthermore, you are responsible for knowing and understanding the permissions you have, if you use them.
TITLES
Each member can receive a title within the guild. These are put in the member's guild note in the guild roster. Some members are given titles for fun, and some are given titles to reflect a role or achievement they have. If you want your title changed or want to be given a specific one, all you must do is be in good standing with the guild and request it from the Founder or a Leader. The titles themselves may just be for show, but other information that might be included in the guild note as well - for example, title colors - have specific meanings:
No Color - Means nothing special. Do something special to get a title color. If you want, of course.



Blue

- Means that this guildmember has attended a guild event and has not attained a different title color. (This is also used for headings in this post.)



White

- Means that this guildmember has a connection to another notable guild, and act as an ambassador between that guild and Magicka. If one has this title color, the guild will be added to their guild note.



Yellow

- Means that this guildmember has contributed a significant donation of some sort to the guild. (This is also used for links in this post.)



Green

- Means that this member is a good person to go to with questions and for advice.



Black

- Means that the part of the title that is this color, is meant for information tracking, and should otherwise be ignored.



Magenta

- Means many things - each meaning is specific to that guildmember, not all of meanings being important. Titles this color are only given out by the Founder.



Red

- Means that this is Kha'jiri - you know, the cat that founded Magicka.



Cyan

- Means that this was one of the founding keepers of Magicka. These players will never be kicked from the guild for inactivity.
RANKING UP
If you feel you are able to fill the sabatons of one of Magicka's higher ranks, there are three things you will want to do.
Storm

- Recruit new members. Magicka is always looking for new blood (blood rituals every Tuesday).



Frost

- Be active and involved in the guild. Nobody likes a lazytail.



Flame

- Contribute to the betterment of Magicka and its members. Everyone does this in their own way, some by promoting the guild to others, some by helping the newbies. Find your own way and you'll gain the respect of fellow members even before you rank up.
If you do these three things, just ask the Founder or a Leader, and you will be considered for a higher rank.
Anyone who leaves Magicka, outside special circumstances (discussed beforehand with a Leader or the Founder), forfeits their rank. Should they rejoin, they must start again as any new initiate would.
GUILDHALL
Magicka has had several guildhalls over time. First, there was "Magicka Keep" (Ebonheart Chateau) in Morrowind, a temporary place until Kha'jiri discovered "Mnemoli Ruins" (Earthtear Cavern). This became Magicka's home, but due to a cave-in, the guildhall had to be moved until the rubble is cleared. The guildhall moved through several locations - a secluded witch's hut, an ancient Orsimer castle, a lavish Imperial estate, a former Dark Brotherhood sanctuary... Most recently, Kha'jiri purchased a historic lot in old Markarth, overlooking the city below. Who knows where it might move from there? Magicka's guildhall is accessible to all guildmembers just about any time, and all visitors may use its services for free. To get there, simply select the Founder in the guild roster, then choose "travel to primary residence". If the guildhall is ever unavailable, it is safe to assume that it is either undergoing significant renovations or the Founder is using another residence as his primary for a guild event, and the guildhall will be reopened in due time. If you wish to donate furnishings or schematics to the guildhall, simply send them to the Founder personally, and if you have any suggestions regarding the guildhall, just let the Founder know!
GUILD BANK
Magicka's guild bank is the place for any and all guild supplies, as well as items simply donated for use by guildmembers. If you have any items or gold to donate to the guild, deposit them into the guild bank, accessible from any banker in Tamriel (outside of assistants). Withdrawing from the guild bank is only available to guild officers, to avoid looting, but if you need something, simply ask an officer and they can see if Magicka has an item to help.

The one thing we ask is that if an item is withdrawn from the guild bank, it is replaced by items/gold of roughly equal value. This is based on an honor system (although we can track it), so if you don't have a fair trade right away, just try to pay it forward in time. If the withdrawals are to help a new player out, don't worry about it much - that is what the guild bank is for! Just be aware that if guild bank access is abused, access may be taken away from all members until bank resources have recovered, and individual punitive measures may be taken.
GUILD STORE
Magicka, like all guilds of its stature, has a guild store. While Magicka is not a trading guild, our guild store can be helpful in buying or selling useful items with other guildmembers - especially items useful for RP - as well as buying our guild tabard. While not often, there are times when we may try to acquire a guild trader (it is usually Ambarys Teran in Reaper's March). The guild store can be accessed via any banker other than assistants, any guild merchant that Magicka has hired, and any Cyrodiil trader that has been enlisted.
LINKS
Over time, helpful things that assist with being in Magicka, or just ESO in general, come up, usually suggested by fellow guildmembers.

First are a few places to look for information, incredibly helpful to newcomers to the Elder Scrolls universe or even those just looking for a refresher.
Here are all the places you can find postings for Magicka, although do keep in mind the only one that will always be up to date is the one on the ESO forums (this one). Any place not listed here is not affiliated in any way with Magicka, no exceptions.
DISCORD
If you haven't already, join the
Magicka Discord
! Join link:
discord.gg/AXv6h8J
(Keep in mind, the link is case sensitive!)
Joining is completely optional, but is a great option to connect with other guildmembers and stay up-to-date on guild news!
HONORS
ALLIES
Magicka, being the popular guild that it is, has also been allied with other guilds throughout its lifetime. If you lead a guild and you want to ally with Magicka, send a Leader or the Founder a message over Xbox Live, making sure to note your guild's name and if you have a website/ forum thread dedicated to your guild, and we will be in touch. Guilds currently allied with Magicka on Xbox One will be listed here.
JOINING
To join Magicka, or if you have a question about it not answered here, send a message to a guild officer over Xbox Live, and we will get back to you as soon as we have the chance, with an invite or an answer! No need for a complicated application process here; as long as you abide by the rules and want to have fun, you are welcome among us.
Here are some guild officers' gamertags one can message in regards to recruitment (if you want to be on this list, let the Founder know!):