There will always be a meta. There will always be the build that does something the best. Still, I thought it'd be interesting to take a look at some of the lesser used sets and see if I could give them some new life. I've always wondered why most of the sets in ESO are so unused or strictly outclassed by others, so I tried to change that by providing new options and effects for players.
Robes of Destruction Mastery
Let's start by saying that there could be a lot of potential for interesting setups in ESO if more 3 item set pieces had some flavor too them. This is just one example, where fire heavies become AOE channels and shock heavies become one big shock hit. This could open up some DPS options that were not previously available.
Destructive Mage
A lot of fun and interesting effects in ESO never get used, which is a real shame. Having destructive mage proc per enemy would require some coordination but a really fun payoff. This could serve as a magicka dps support set, of which there are very few. Could lower the radius to decrease the effectiveness but still make the damage payoff worth it.
Wise Mage
Instead of being strictly worse than infallible mage, this set can become more focused on sustain and group utility. This can be worn by a dps as an alternate support setup, or by a healer paired with spell power cure for another way to support magicka dps.
Elemental Succession
Whenever I run through vMA, I'm disappointed that most of the sets are too weak to hold on to. Succession is a cool effect, but needs a little more flavor. Seeing the element swirl around you and buffing it up a bit might make for a fun multi-element build.
Magicka Furnace
The 3 piece here is meant to allow frosty dps to utilize the fire and shock aspects of the Tri Focus passive while still being able to use frost staff heavy attacks and not be a bother to the group. Frost Dps is lacking in the game, so it'd be nice to see it in a bit more desirable state.
Healer's Habit
This is another example of my efforts to produce more mixing and matching with 3-pieces. Instead of changing a set entirely or buffing the numbers of weak 5 pieces, it is possible to move weak or lesser used 5 pieces up to the 3 piece slot, and see how they can be paired with other things. This also shows the possibility of armor interacting with passive abilities.
Light Speaker
Here we have another example of taking a weak 5 piece and bringing it up to the 3 piece slot. Healers can hold onto these 3 piece sets for mixing and matching.
Combat Physician
Combat Physician is just slightly underwhelming. Have it proc per ally (and maybe it works with trinimac's valor?), and you have a unique healer setup. SPC, Worm, and mending aren't going anywhere any time soon, so healer support setups need to be tempting and worth it.
Dreamer's Mantle
"When you take damage while you are under 35% Health" and you're in light armor... you're probably dead. Instead, I changed the 5 piece into something for those who dream of sneaky high spell damage. The spell damage would have to be closely looked at, but this could produce unique low crit builds.
Flame Blossom
This is another instance where the set proc doesn't do the name justice. The flames should blossom out gloriously, instead of moving in an underwhelming straight line. Have them radiate out in more directions, but decrease the damage. Visuals are important.
Vestments of the Warlock
The 5 piece is strong, but it kind of fights itself by providing magicka recovery. If we swap the recovery out for something else, it could see some more use.
Lamia's Song
Lamias like to scream with each other. With this support set, players can scream out their ultimate and extend the next one used by a group member. This would make for unique timing and coordination of ultimate abilities.
Prayer Shawl
Pray to the nines, hoping for bad things to become good things. A unique healer set with situational uses.
Syrabane's Grip
Know what type of damage is incoming and you know what damage will be more effective. Difficult to use but a big payoff.
Treasure Hunter
Gain both major buffs and maybe hybrids see some opportunities to shine.
Undaunted Unweaver
Just like the new undaunted infiltrator, but now in light armor. Again, could produce other viable builds that don't fall in line with the cookie cutters.
Essence Thief
This change makes it so that allies can pick up the essences you take from your enemies. This could serve as a support set for stam dps, or tanks can grab the essences as well.
Blooddrinker
For a set called Blooddrinker, we're doing a frighteningly low amount of blood drinking. This makes it so that the blood we drink goes straight into the vitality of our veins... because that's how biology works, right?
Crusader
The crusader set really needs to allow for more crusading. This is a unique effect which actually procs a skill. I don't love the cooldown but it could be really strong if it can be used too reliably. Might actually prefer a shorter cooldown but a lower proc chance.
Hircine's Veneer
Maybe another support set for stam dps, because they don't have enough to carry around already.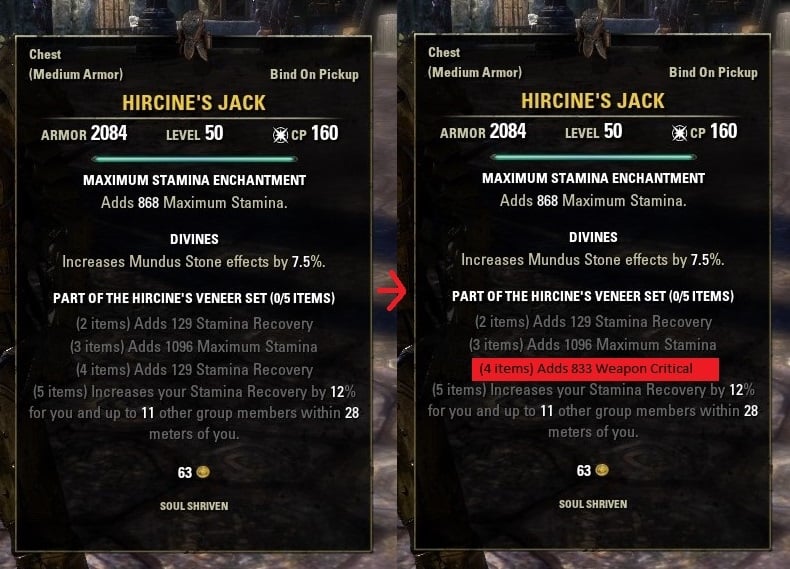 Para Bellum
Here's another sad vMA set that could do with some freshening up.
Quick Serpent
This is another instance where a set is outclassed by another within the same content (like wise mage and infallible mage). Vicious serpent is simply stronger, so the sets need some more separation.
Ranger's Gait
Maybe heavy attacks in this game shouldn't put us to sleep in the first place, but until then, there's this idea.
Oblivion's Edge
The current 5 piece is just about the saddest one in the game. My change may be crazy, but it has a ton of spice to it. Stings the tongue.
Spelunker
The 5 piece is too weak. Move it to the 3 piece slot and see what cool builds could arise.
Storm Master
In order to keep in line with the flavor of the set name, we make half of the proc damage physical, which is more in line with the stamina dps focus.
Toothrow
Toothrow suits the same purpose of a hybrid option as Treasure Hunter, but for medium armor. Both Major buffs here too.
Undaunted Infilitrator
Another hybrid enabler, where we move the 5 piece to the 3 piece slot. Could make for some interesting, more variable builds, even if just one slot is changed.
Ice Furnace
Instead of a heavy armor damage set, I've changed it into a 5 piece tool for frost staff tanking. This is a guaranteed AOE source of Minor Maim to compete with dk talons.
Glorious Defender
For a set with glory in the name, it is rather lacking in glory. This set would involve being aware of what effect is currently up and adjusting accordingly. Because optimal tank gearing is so focused on group utility and penetration, the more selfish tank sets should be good because you're sacrificing so much.
Medusa
A big part of my changes involve taking the set source, name, and flavor into account. The Medusa set needed more turning to stone, so I changed up the 5 piece for tanks.
Permafrost
You slowly chill into a frigid cocoon of health, and you control when to reset. Very permafrosty.
Beekeeper's Gear
Health Recovery isn't a very desirable stat, but I like the uniqueness of this set. Maybe with some magicka recovery we could see it used more before end game.
Brands of Imperium
This tank set is a unique way to support the group by handing out ultimate.
Embershield
Your armor is made of hot embers, so melee attacker weapons should spark fire explosions with their attacks... naturally. Also provides lesser sourced group utility.
Aspect of Mazzatun
The "when something happens while you are under X% health" sets are really tough to make fun, interesting, and worth using. Here is a sustain set idea for tanks of all types that makes the set way stronger. Again, tank and healer setups are usually group oriented, so selfish sets should be worth it if they are used.
Duneripper's Scales
Dunerippers have a habit of burrowing underground when you are about to dps them down. Becoming shrouded in a swirl of sand would be very visually satisfying as a tank. The Duneripper set should take that ability to the player.
Wyrd Tree's Blessing
This is a unique way for tanks to provide some group utility, in the form of a kind of half purge. The magicka recovery is also quite nice.
Draugr's Heritage
Another "under X% health" set that needs changing. This set makes your enemies explode like draugrs. Good for exploding trash groups, where DPS can focus the enemy you taunted first.
Eternal Warrior
Instead of locking this cool effect behind a long cooldown, I've changed it into a big trade off for tanking. When you die, you are locked in position. Good for fights where tank mobility isn't important. Sets which have their effects active at all times will always win out in optimal groups, but this is a fun novelty that involves group synergy.
Immortal Warrior
Similar to the eternal yokeda change, but it can only happen once per combat encounter. Resurrecting, miraculously, sounds too cool for an auto-decon set.
Hatchling's Shell
The current 5 piece is extraordinarily underwhelming. You could add group utility to the 5 piece, or you could bring the 5 piece into the 3 piece slot like I've discussed and see where it could find a pairing with something else.
Green Pact
These sets could provide an option for players within the same 5 piece. Change which buff you use depending on the content you're doing. Seems like a good way to spice up this type of 5 piece.
Tormentor
This provides an alternative way to taunt and apply major fracture and major breach. It could allow for very unique tanking setups.
Knightmare
Bash is free and provides fracture and breach, but it comes at a cost. Could be combined with the altered knightmare set for a crazy bash tank build.
Jolting Arms
Another cool effect that could do with being more worth it, and group utility is the name of the game.
Nikulas
This might be an interesting opportunity for a 5 piece to hop into the 3 piece slot. Some weird mixing and matching could happen here.
Hide of Morihaus
Here I've provided a new way to taunt, and the first way to AOE taunt. Because an AOE taunt would be strong, the taunt has its duration reduced. Could be really fun for dungeon runs.
Storm Knight's Plate
This set now draws enemies in before dealing damage. I would love to run dungeons as a crowd controlling tank that rallies up enemies into a ball of opportunity.
Thunderbug's Carapace
Step on a thunderbug and be prepared to feel the consequences... like stepping on an electrically charged lego piece.
Whitestrake's Retribution
Instead of another bland "under 30% health" set, I've changed this into a more flavorful and unique set for tanks. This would introduce the crazy idea of a "pet tank," which in this case, provides some survivability for group members, especially the melee dps in tight.
Death's Wind
Death's Wind related to Draugr Heritage, so I kept it that way. The effect is slightly weaker but still useful for new tanks.
Daedric Trickery
Daedric Trickery is on the fringe of being very interesting to use. First, the set only has a 50% uptime. Second, expedition is far too easily obtained otherwise. Taking both into account, we keep 4 major buffs possible and maybe this set sees some more use.
Armor Master
Now that armor abilities require wearing 5 pieces of the armor type, the armor master set could provide a unique opportunity to mix and match.
Eyes of Mara
This could provide a niche opportunity for PvP healers or PvE nightblade healers and the new malevolent offering skill.
Kvatch Gladiator
This set could fill in some gaps and create unique builds for hybrids or classes without an execute.
Morkuldin
Another stam dps support set idea. Might be really satisfying to use if multiple animated weapons could be out at once.
Oblivion's Foe
This could produce some really unique builds which fire off random soul traps. Might produce some really fun gameplay where any build has a kind of crystal frag proc ability and a dynamic rotation.
Redistributor
Another idea for a healer set in a case where the 5 piece is simply too weak.
Song of Lamae
Lamae was some sort of self healing vampire that would spontaneously annihilate her enemies. My changes provide some self healing and a buff to the recovery of the 5 piece.
Spectre's Eye
I really like the "cast it anyway" effect. Seems like an interesting way to spice up the current 5 piece.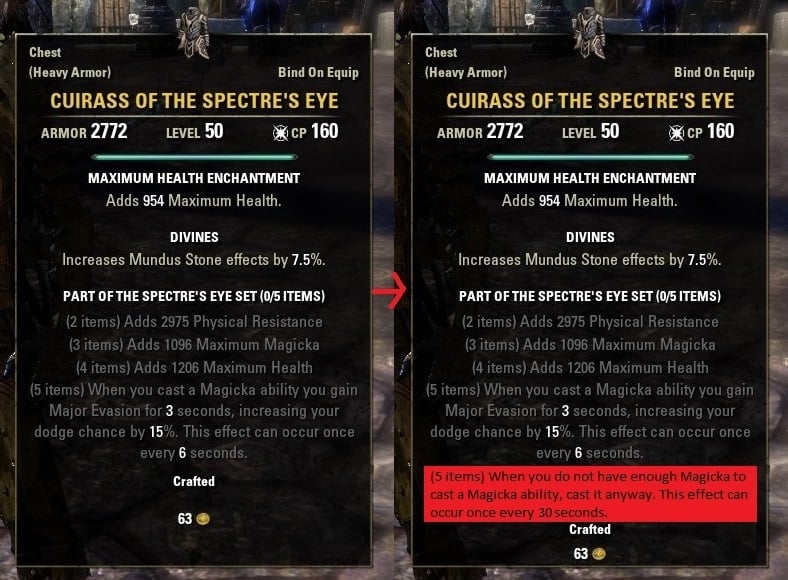 The meta will always have something pull out on top, but there is still plenty of room in the game for alternative setups and niche builds that are fun but still perform well. If people can fill a role well while doing it in a different way, I think more people will find unique setups and playstyles they can enjoy. The more strong ways there are to dps, heal, and tank, the more likely it is that someone will find a unique way to have fun.
Thank you for taking the time to read through.