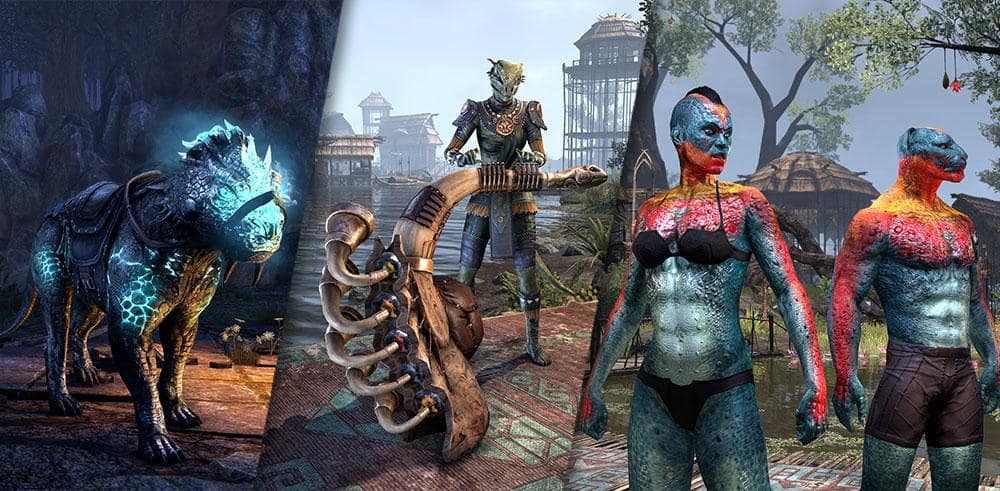 This is the official discussion thread for the
Introducing the Xanmeer Crown Crate Season
blog article.
Uncover the wild and wonderful antiquities of the deep swamp with the all-new Xanmeer Crown Crates. Preview some of the colorful and unique items you can acquire from the latest Crown Crate season right here.
Here's a full list of all the new rewards contained in the Xanmeer Crown Crates:
Radiant Apex Rewards
Scorching Horse-Lizard
Venomous Wolf-Lizard
Chilling Senche-Lizard
Apex Rewards
Wolf-Lizard Steed
Senche-Lizard Steed
Guar-Lizard Steed
Camel-Lizard Steed
Bear-Lizard Steed
Horse-Lizard Steed
Resplendent Sweetroll
Legendary Rewards
Voriplasm Sword Outfit style
Voriplasm Battle Axe Outfit style
Voriplasm Bow Outfit style
Voriplasm Staff Outfit style
Hist Guar
Nightfall Sabre Cat
Nightfall Sabre Cat Cub
Lustrous Nix-Ox Fabricant Steed
Firepet Spider
Bright-Throat Scale
Dead-Water Scale
Vossa-satl
Gas Blossom
Lantern Mantis
Static Pitcher
Instant All Research, Major
Grand Gold Coast Experience Scroll
Epic Rewards
Sep Adder
Marshlord Formal Bugshell Robes
Lizardly Four-Fabric Skirt Set
Xanmeer Doyen's Worship Robe
Xanmeer Doyen's Feather Tiara
Dead-Water Blood Face Tattoos
Dead-Water Blood Body Tattoos
Daemon Chicken
Riverwood White Hen
Kaleidotropic Dragon Frog
Butterscotch Dragon Frog
Sep Adder
Marshlord Formal Bugshell Robes
Instant All Research
Major Gold Coast Experience Scroll
Superior Rewards
Craglorn Welwa
Amber Ash Hopper
Bitter Coast Cliff Strider
Bright-Throat Chalk Face Tattoo
Bright-Throat Chalk Body Tattoo
Bright-Throat Woad Face Tattoo
Bright-Throat Woad Body Tattoo
Bright-Throat Algae Face Tattoo
Bright-Throat Algae Body Tattoo
Bright-Throat Yolk Face Tattoo
Bright-Throat Yolk Body Tattoo
Dead-Water Tooth-and-Tusk Tiara
Bonding Rite Headdress
Mire Drum
Fine Rewards
Forest: Sand and Moss
Forest: First Seed Swamp
Alchemical: Forest Outlaw Opaques
Alchemical: Viridian Sentinel
Alchemical: Lichen and Fern
Alchemical: Green Winter Wheat
Crown Combat Mystic's Stew
Crown Vigorous Ragout
Crown Stout Magic Liqueur
Crown Vigorous Tincture
Gold Coast Experience Scroll
Crown Soul Gem
Crown Repair Kit
Crown Lesson: Riding Capacity
Crown Lesson: Riding Speed
Crown Lesson: Riding Stamina
Common Rewards
Crown Tri-Restoration Potion
Gold Coast Survivor Elixir
Gold Coast Spellcaster Elixir
Gold Coast Warrior Elixir
Gold Coast Swift Survivor Elixir
Crown Lethal Poison
Gold Coast Enfeebling Poison
Gold Coast Trapping Poison
Gold Coast Draining Poison
Gold Coast Debilitating Poison
Crown Mimic Stone
Are you excited to uncover the secret relics of the Xanmeer? Let us know if you're planning to pick up these exotic new crates on Twitter at
TESOnline
and
Facebook
!
Edited by ZOS_JessicaFolsom on December 4, 2018 3:13PM