Updated for Summerset
Notes about the updates to this build at the end of this post.
So the idea behind this build was to be able to complete vMA effectively and easily without ever having to swap bars. Often in vMA I get killed trying to switch bars or lose track of which one I am on. There are also those of you who have terrible lag and bar swapping really isn't an option. So this build is for anyone wanting to complete vMA for the first time using a magsorc. I tried to keep things as simple as possible and as such you pretty much just heavy attack your way to victory!
This build is in no way min/maxed and could probably perform even better if it were, but this setup has worked very well for me and a few others I've shared it with.
Videos
Recorded this on PS4 so I'm sorry about the video quality and doing it in two parts. At least it breaks it down a little better for specific rounds.
I did die one time during stage 7 Vault of Umbrage. It wasn't even the main boss round, just got eaten by the poison spores and wasn't able to cleanse it in time.
No sigils were used. No intentional animation cancelling was done. No bar swapping. Regular Essence of Magicka Potions were used occasionally though they weren't really needed. Mainly just heavy attacks with a few light attacks thrown in at times. I was also using Empowered Ward instead of Hardened Ward, so my shields weren't as big but I had the additional magicka regen. It really isn't needed with this build, I just already had it for a PvP build of mine and didn't feel like respeccing for one morph.
Pt.1 Stages 1-5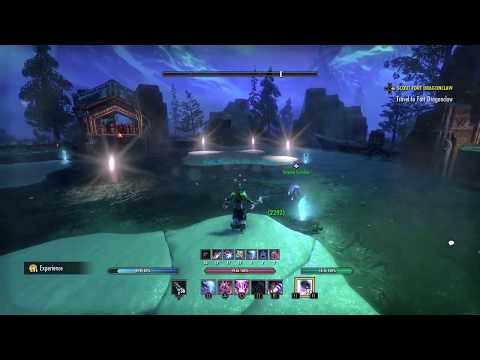 https://www.youtube.com/watch?v=LnA4MpsCllg&t=1387s
Pt.2 Stages 6-9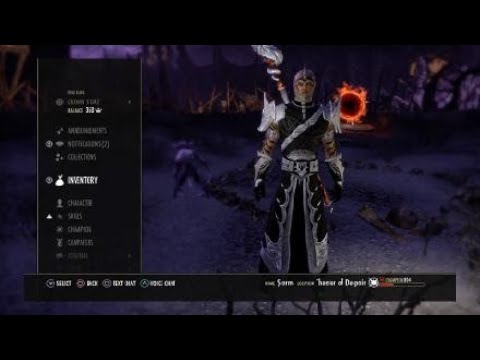 https://youtu.be/EdMSas6r5oA
Gear Setup
None of the gear we are using is hard to obtain. If you dont have a monster set helm or shoulder just use a random piece of gear, it won't make a huge difference.

You can also get by with keeping everything purple quality, though I highly recommend at least making your weapon legendary and the lightning damage enchant legendary as well since this provides the biggest boost to dps.

5x Netches Touch/Necropotence
5x Torug's Pact with Lightning Staff
2x Monster set of choice (Optional 2 piece of any other set)

(Necropotence is recommended with Summerset and I explain why at the end of this post however netches touch is almost equal.)
(The videos also shows me using the Ilambris monster set, but it isn't required.)

Traits on gear should be divines or you can go with infused on big pieces. Max magicka enchants.

Jewelry needs increase spell damage enchant.

Weapon should be infused with flame damage enchant.

We will also be making use of the Undaunted passives so go with 5x light 1x medium and 1x heavy

5 piece Netches Touch is acquired from Darkshade Caverns I and II. The extra lightning damage bonus effects all of the sorc lightning skills and our lightning staff. You need 3 pieces of jewelry which are very easy to farm since they drop on some mini-bosses instead of only in chests or the final boss.

Necropotence is dropped in Rivenspire and can be purchased off guild traders, so it's relatively easy to obtain if you have a bit of time or gold.

Torug's Pact is craftable so this makes getting a staff with infused very easy. It also only requires 3 traits researched to craft making it very easy to obtain by almost anyone. The 5 piece bonus alongside an infused weapon gives us incredible uptime on our flame enchantment and causes it to hit extremely hard and also applies burning to targets.

You can use basically any monster set you want if you have access to it. If you need more survivability use something like infernal guardian. For more dps use ilambris or grothdar. Any set will do though and if you don't have access to any monster sets yet, simply use another crafted or dropped 2 piece set. Most monster sets are fairly easy to obtain over time, especially with transmutation a thing now. It isn't required though and the first version of this build didn't use any.
Mundus and CP
The Lover Mundus stone

Thief
Tower- 51 in Warlord
The Lover- 64 Arcanist 56 Tenacity
The Shadow- 51 Tumbling 26 Shadow Ward 2 Befoul

Mage
The Arcanist- 51 Elfborn 49 Elemental Expert 54 Spell Erosion
The Atronach- 21 Staff Expert
The Ritual- 75 Thaumaturge

Warrior
The Steed- 44 Ironclad 23 Spell Shield 9 Resistant
The Lady- 49 Hardy 49 Elemental Defender
The Lord- 61 Bastion 15 Quick Recovery

Alternate Warrior
The Steed- 44 Ironclad 23 Spell Shield 9 Resistant
The Lady- 49 Hardy 49 Elemental Defender 61 Thick Skinned
The Lord- 15 Quick Recovery
Skills and Stats
The main point of this build is to be able to be effective while only needing to stay on your main bar. If you're proficient at bar swapping you can set up a second bar, but it's completely optional for this build.

54 into Magicka and 10 in health. This gives us a bit more health just as a safety net. You can put all into magicka or some into stamina if you want.

Hardened Ward, Summon Volatile Familiar, Elemental Blockade, Power Surge and the final slot is up to you.

Instead of Hardened Ward you can also run Empowered Ward for additional magicka regen. You have a smaller shield as a result though, but it helps with sustain if you're having any issues. The videos I posted I was using Empowered Ward. It really isn't needed with this build, I just already had it for a PvP build of mine and didn't feel like respeccing for one morph.

You can run bound aegis for the increased resists and max magicka or inner light for more crit and max magicka or run crushing shock to interrupt archers and trolls. Liquid lightning is also a viable option especially during some boss fights.

The familiar does free damage and aoe damage over time, allowing us to heavy attack more often and also acts as a sort of tank at times for you.

Elemental Blockade sets targets off balance and when combined with the exploiter passive gives us 10% more damage to off balance targets.

Power Surge gives us 20% more spell damage and heals us for any critical strikes we or our pet score.

Ultimate is optional but I recommend Shooting Star/Ice Comet or Eye of the Storm. Shooting Star will increase your max magicka even further and costs less to cast but I feel eye of the storm is just too powerful to pass up when dealing with bosses and it also provides more mobility. You can move around to hit mobs instead of a stationary aoe on the ground. Suppression Field is also a good ultimate to use and comes in very handy for some boss fights. (I actually primarily use Supression Field at this point. It's good for almost any situation I've come to realize even though it doesn't do nearly as much damage as the harder hitting ultimates.)

All of the damage we do is shock so we always have a chance to proc the Implosion passive, executing mobs for free.

The rotation is simple. Keep elemental blockade down at all times, familiar pulse going and power surge up. Other than that spam hardened ward and heavy attack. Heavy attack is the main source of our damage with this build.
Potions and Food
These are completely optional but I recommend running Witchmother's Potent Brew for the increased magicka recovery and max health and magicka.

For potions you can get by with basic essence of magicka but if you have the extra flowers or cash then essence of spell critical is the way to go. Gives health and magicka back as well as increases your spell critical rating.
Optional Setups
If you find you're lacking on stamina recovery or need a bit more magicka regen you can always slot one recovery glyph on your jewelry to help out. You can also use a monster set that grants recovery to whichever stat you need. Just play around with it a bit and tailor it to your needs.
Remember though, a lot of vMA comes down to RNG and how well you know the mechanics. My wife struggled on this for 2 years trying out tons of builds and was finally able to complete it this week for the first time using this build. She told me I needed to post a guide for others struggling with vMA since it helped her out so much in completing it finally. So don't give up! Just have patience and you will get there eventually!
Best of luck to all of you and I hope this build helps at least a few of you complete vMA. If I'm forgetting anything I will update later! Thanks for reading!
Updated Notes
I've had a chance to test things out on a target dummy so I've updated the build. I haven't ran it through vMA yet personally but it will still work the same.

I discovered that Necropotence is the better option of the two because it adds nearly 8k more magicka at the cost of only 201 dps on a target dummy. Netches Touch adds more crit chance, but under 4% more. The higher resource pool and better shields outweigh it imo.

I was using a single bar, with inner light, power surge, elemental blockade, hardened ward, volatile familiar and suppression field. 5x torug's with staff and 2x ilambris. (Yes I could have dropped hardened ward for something else, but I wanted to keep it so I didn't cheese numbers that I wouldn't normally obtain in vMA.)

Necropotence did 19108.9 dps in 2m 37s. Netches did 19309.9 dps in 2m 36s.

This was done using heavy attacks primarily with only a few light attacks when needed. No animation canceling or bar swapping was done. 19k for a single bar is good damage in my opinion especially when it allows you to focus on what's going on around you more rather than your skills. This is easy to maintain in vMA unlike most builds that cause your dps to drop significantly when you have to actually fight something that fights back.

Update: had a chance to run vMA using this build. Received flawless my first time through using no sigils. More information further down in the thread.