The handsome rogue stood on the top deck of the ship, looking out over the Daggerfall docks. The workers were already unloading cargo, but only a small percentage of it was actually his. That small percentage, however, was worth more than most of the rest put together.
"Master Minhere," Captain Orin said as he passed by Luke, giving a smile and nod.
Luke did not respond, and truth be told was not expected to. It was a good day, and he could not help but smile at how well this shipment went. His fortune had grown quite a bit since he was a scrounger on the streets of the Imperial City, but this was indeed one of his biggest hauls yet.
Imperial silk, which was not welcomed in Glenumbra by the ruling class, as they were shunning anything of the empire right now, but was well received by the wealthy. No dock worker or dock boss would have any idea what was in the crates, and a look inside would only reveal cloth of some unknown, and little interest, origin. They looked for carvings, golden doubloons, and even liqueur, but the ruffians that did look had no eye for the finest thing in the world, good cloth.
"You look too happy to be a pirate," Marcy said, walking up beside him.
"Smuggler," he said low, the smile never leaving his face.
"What?"
"I am a smuggler, dear, not a pirate. I bought this fare and square, it's value is based on the fact that it is not welcomed here."
Marcy just rolled her eyes, but remained by his side. She was one of his paid body guards, well paid at that. However, in the months that she worked for him, she came to actually like the rogue, and became one of only two people that Luke trusted completely. Also remained one of the few of his female confidants that he had not bedded.
Marcy looked him over out the corner of her eye, as he watched the shipment intently, and watched the dock guards look through them, spot checking for anything out of order that they could report back to commerce. He wore a black top hat, but always tilted a bit low in the front. His clothes were always fine and fitted, being a tailor of some sort, she knew it was a part of his trade. While he could not be considered a fancy man, he was a well dressed man. Never loud colors, always darker colors against a white under shirt.
When Luke saw the inspectors had passed by his own couple of crates, one being looked in and left with no interest, he looked over to his guard, his interest no longer in the shipment.
"Is Brin about," Luke asked, smiling handsomely at her now, his full attention on her.
"He is sleeping, he stayed up all night until we docked," she said, and leaned on the rail as she watched the dock workers scramble to receive the goods coming off of the Black Wolf. The good captain seemed to fuss and argue and fuss some more about how they should go easy with the crates. How the shipments were not their dock *** to be handled as such, and other insults. It was expected of captains, and the dock workers hardly paid him mind.
"Let him sleep then," Luke said, " I have a tavern to attend. You need not come if you wish get some rest."
"No sir, I will come with you. I need a drink, and someone needs to watch over you. You tend to get in trouble otherwise," she said, but her tone had no humor in it.
This just made the rogue tailor chuckle, causing Marcy to roll her eyes again, something she did often around her boss.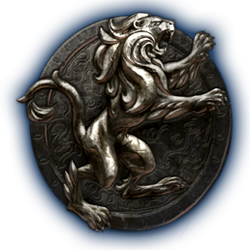 "Krist the Lionheart? No. Lionheart was my dog" -Krist
"Darling, if looks were everything, I would be king of the world" -Luke
"That place, between day and night, that purple color just before dark, that is where you will find me"- Hughe