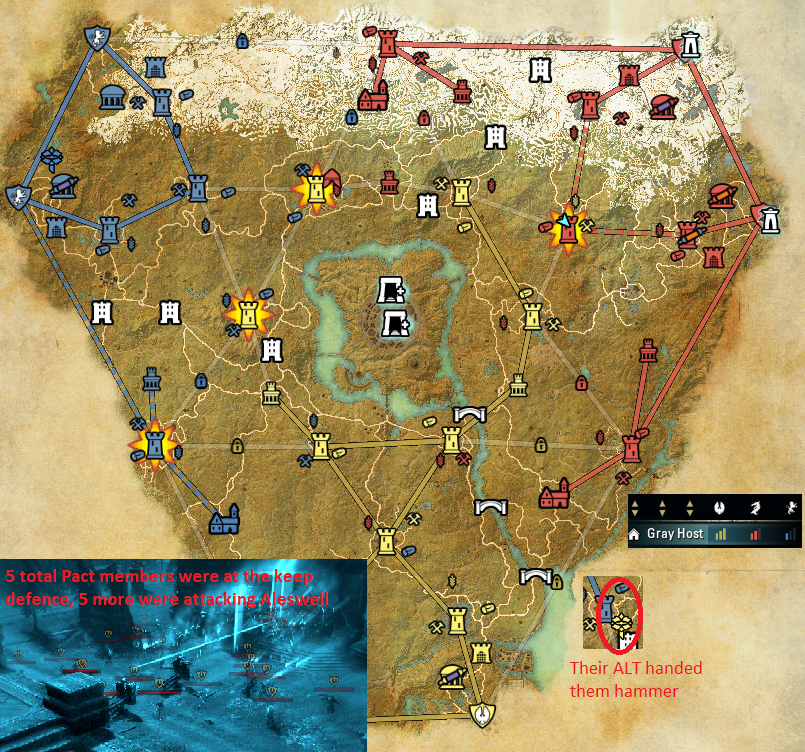 (5:32AM GMT posting this image)
Does this image look familiar to you? (ignore which faction it is, all 3 are guilty of this crap)
if you've played long enough you know full to well about the whole unbalanced issue of population abuse be it from time zones (something you cant control but many guilds will happily exploit for farming), cross faction "spies" aka making alts to hog up a player slot and monitor zone chat or even individual open group chats and the dreaded 2 man 20 siege engine keep flips/cuts.
maybe it is about time focus was put onto reworking Cyrodiil to not be such a slog of repeated cheese fests and actually focus more on the battle side of things rather than out cheesing your opponent (or in most cases lack of)
some things of the top of my head:
limiting sieges so they NEED to be manned to reload and fire so no more 1-2 man 20 siege stupidity.
make it that if you are not actively playing Cyrodiil PvP for 10minutes you are given a timer that if you dont start doing objectives be it fighting, attacking keeps/resources or healing players in combat you are ejected from the battlefield so to combat the AFKers and alt accounts hogging player slots.
remove the pointless PvE areas they serve as nothing but a non-PvP distraction and completely contributes nothing to the whole point of the region (this includes delves and towns with no spawn functions.)
increase the underdog detection rate so that it actually applies more accurately when applicable.
improve the underdog bonus so that it actually improves the damage delt+reduces damage taken of its players+NPC's and improves the durability+health of its keeps, add a second underdog bonus thats half the scaling for the middle range faction. (current underdog would apply to the weakest and the middle ground would apply to the second place IF the population and score is somewhat away from the leader.)
now theres probably a ton more tweaks that could work and probably better than what i'v listed but i'v farted this list up in like 20minutes so if you can do better with stats to back it up im all for it but i am just sick of this cheese fest its part of what made me leave Cyrodiil in the first place (not including the server lag which HAS improved thank god but the cheese fest still existing isnt enough to want me to commit as much as i'd like)
[edited for profanity bypass]
Edited by ZOS_Icy on May 14, 2023 3:50PM
PLEASE REPLY TO ME WITH @dsalter otherwise i'm likely to miss the reply if its not my own thread
EU - [Arch Mage Dave] Altmer Sorcerer
Fight back at the crates and boxes, together we can change things.