Greetings!
We have started an ESO Project Called Immersive Quests !
It's currently available as an addon in Minion as "Immersive Quests"
Here is a short summery of it :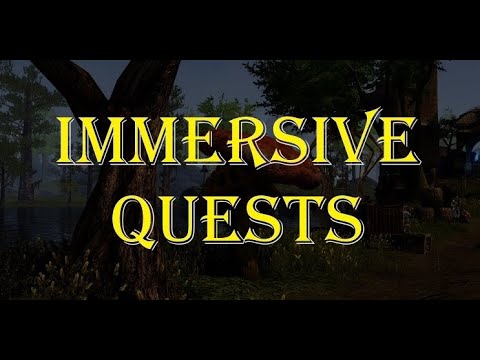 https://www.youtube.com/watch?v=FA8OmLh17QQ
Technically we are looking to transform ESO's quest into the likes of older RPS's like TES3 Morrowind.
Where it was up to the player to figure stuff out and they were lead by the clues inside the journal and not just running after the way markers showing you everything.
Our Creative Writers are creating content Zone By Zone and currently we are looking for Feedback on the currently written quests on how they play.
We are looking for playtesters who can help us bring this projects vision to life!
We have lots of prize for those who wish to help out, and you will be one of the first to be try out the next zones and quest lines.
Thanks
Immersive Quests Team
Immersive Quests Addon
---
Wish to Quest without Quest Way Markers? ''Talk to the Hooded Figure'' Turns into ''Talk to the Hooded Figure, who is feeding the chickens near the southeastern gate in the city of Daggerfall in Glenumbra.'' If you Wish To write bread crumbs clues for quest for other players to experience come join the team!
---
List of Immersion Addons