It took me a while to make this post because for a moment, I hesitated, thinking "would full big couches even be lore-friendly? Is there some lore reason why all the couches we have are small and dainty?" I didn't know the history of modern couches, so I decided to educate myself, and the answer is that couches are lore friendly, and I will explain why.
When we think of medieval times, we don't immediately think of full sofas. We think of wooden benches and chairs clustered around a fire or hearth. Which, at first glance, would seem like the type of aesthetic ESO has gone for. For a long time in European countries, culture was dictated by religion, where the thought of worldly comforts were frowned upon because it would make you stray from values. This would make sense; the cultures of different Elder Scrolls races seem to worship the Divines and have very Christian chapels. This is a world based on Western medieval fantasy, after all.
Until you notice that, actually, we *do* have sofas and upholstered seating, even in the base game. Furnishings like the Breton throne, Breton armchair, Dark Elf Sofas, Redguard couches, and the Elsweyr Chaise Lounge.
The first "modern sofa," called the "Canapé," was conceptualized in the 17th century deep in the Renaissance, where thinking was more forward and comfort was more valued. They tended to not have a back, but they were at least *comfortable.* Although, we see the Redguards had already upgraded to having couch backing. Deep-buttoned couches, the first of the late 1700s, were called Chesterfields, which at least had a low back to them.
Canapé:
Chesterfield:
So, let's look at Elder Scrolls cultures again. What would be "comfortable" for them? I had to ask myself this as I once again struggled to conceptualize my player home. These delicate seatings would be fine for my smaller-of-stature Breton woman. But they would not be fine, however, for her burly Orc husband, who would at best not be comfortable sitting on these arguably tiny couches, and would at worst probably break them. ESO is no stranger to interspecies marriages, of course; one comes to mind two quest NPCs in Bangkorai, a Redguard man and an Orc woman who by the end wished to court him.
This is probably the reason why, in much of orc furniture, we see some thrones made out of stone (though this makes me shiver for their poor cold Orc bums). In this sense it is similar to the Greek and Roman benches that were also of stone. (This also makes sense with the Dwemer, who seemed to have little care for worldly comforts, but were also philosophers and in general deep-thinkers, but would have little care for religion. They did not believe in the Divines, or even the Daedric Princes, for that matter. Even when one appeared in front of them!) Although, we see that at least some Orcs have forward thinking with their cushioned benches and armchairs. Albeit, they seem a bit small for people of their size, although many base-game furnishings are plagued by this odd size discrepancy (an issue that still seems to plague newer DLC seating, and desks in the case of height).
The need for comfort becomes especially head-scratching with the High Elves. They are a tall people, much like the Orcs, but they have similar Renaissance-esque luxury tastes to the Bretons, and only have small cushioned benches. The High Elf base game furniture is especially contradictory; my tall Elven male character towers over much the furniture. Alinor furniture for the most part made the sizes more reasonable, but still most seating is small.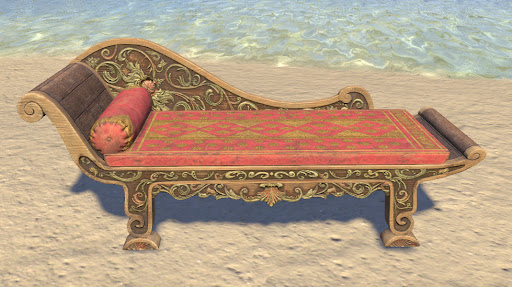 It was also particularly confusing with the Northern Elsweyr Khajiit furniture, whose desires for palaces, pillows and comforts left us with wooden benches, and only one very small—and very delicate-looking—cushioned lounge seat, which does not have much presence to it in a room despite its gold quality.
In Housing, I believe what we lack is *presence.* Furniture is often small. "Grand" tables seat at most four, regular tables seat at most two, benches are typically thin. Culturally, with the addition of sofas, it became the centerpiece of homes to bring families together around the hearth, and later around televisions, to the point that couches became the symbol of a home, to the point where, if the citizens of Tamriel have access to this convenient invention, why do we not see more of it, and of bigger size to match its people? We would ideally have couches that we could place in front of a hearth. A gathering place for families or guests in a welcoming fashion. And I think small details like this are what makes some of Housing alien to us, because things like this sense of unity are missing.
Yet again recently I had to cobble my own couches to be full, with a back, and, most importantly, fill up space in a room, something I think helps fill space and mitigate the outcry of "more slots!"
As far as cultures who have yet to have "updated furnishings," we have Bretons and Wood Elves, although arguably Redguards and Orcs were not given much more furnishings in their respective themed DLCs either. I think the greatest potential candidate for a "big" cushioned couch would be the Bretons and would match with the style of their furniture. Or an updated Redguard cushioned couch, or even an Orcish leather couch.
TLDR: Plz add bigger "full" couches, such as a Breton Couch. They'd save slots, be lore friendly, and even make sense!