Have you gotten into the Halloween spirit with decorating one of your ESO homes? We are looking for unique, fun, and creative decoration entries. This contest is for PC North American Server only and we will be touring the top 10 contestants and announcing the winner live on Twitch.tv/deltiasgaming on October 29th at 1 PM EST.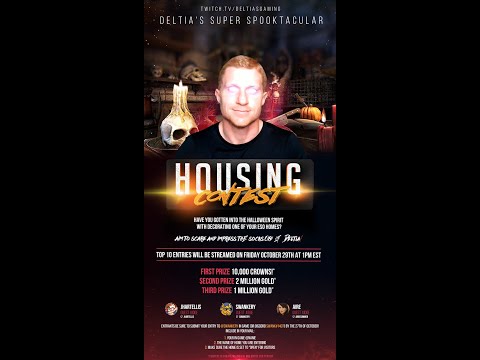 PRIZES*
1st Prize 10,000 Crowns + 5 million gold
2nd Prize 2,000 Crowns + 2 million gold
3rd Prize 1,000 Crowns + 1 million gold
Top 10 entries will be streamed on Friday October 29th at 1 PM EST on
Deltia's Twitch
and announcing the winner at the conclusion of the 2 hour livestream.
HOW TO ENTER
Entrants may send a mail to our primary point of contact Swankery
@swankery
in game on PC NA by the 24th of October! Include in your mail:
Trending
ESO Bounties of Blackwood
Your in game
@name
The name of the home you are entering
Make sure the home is set to "Open" for visitors
If you get into the top 10, you will be notified by October 28th
SPECIAL JUDGES
Our Special Judges will tour your home and judge your home based on the following:
Halloween Theme 1-10 points
WOW! Factor 1-10 points
Technical 1-5 points
Total of 25 points possible per build.
Special Housing Judges
@swankery
Twitter.com/swankery1
@JHartEllis
Jhartellis – twitch.tv/jhartellis
@airie
– twitch.tv/airiesummer
*Contest is for PC North America only (No FX addon). One entry per person. Crowns will be gifted up to the amount shown above.
In-game
@deltiasgaming
|
deltiasgaming.com
for Elder Scrolls Online [ESO / TESO] Guides
"It's a good day to be alive"