Maintenance for the week of October 2:
• [COMPLETE] PC/Mac: NA and EU megaservers for patch maintenance – October 2, 4:00AM EDT (8:00 UTC) - 9:00AM EDT (13:00 UTC)
• ESO Store and Account System for maintenance – October 3, 9:00AM EDT (13:00 UTC) - 12:00PM EDT (16:00 UTC)
• Xbox: NA and EU megaservers for patch maintenance – October 4, 6:00AM EDT (10:00 UTC) - 12:00PM EDT (16:00 UTC)
• PlayStation®: NA and EU megaservers for patch maintenance – October 4, 6:00AM EDT (10:00 UTC) - 12:00PM EDT (16:00 UTC)
Scalebreaker Patch Changes Explained
Cas put together a rather comprehensive take on the changes to the game, that are really quite extensive.
There's a written version:
ESO Scalebreaker Changes Explained
And there's a video: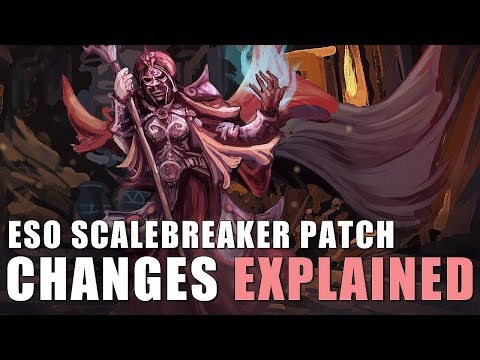 https://www.youtube.com/watch?v=65MrX6gVWhc
Here's the TL;DR
While there are a ton of Skill changes with the Scalebreaker Update, I think after you look through ALL of them (and there are a lot), you will realize that the general gameplay of ESO remains mostly the same. There were numerous cost and damage tweaks, but out of all the skill changes it was a small percentage that were drastically effected.

However, probably the most notable role affected here is the healer. Healing Springs has been changed, and healers will not be able to rely on it as their go to. Mutagen will need to be cast twice as often, which will further tax healer resources, making Magicka Recovery more important than ever. And, Necrotic Orb is now a one out at a time deal, meaning they won't be able to spam them. This should translate to more meaningful and skilled gameplay for this role, which frankly I for one am happy about. Healing is easy, and has traditionally been more about the gear you are wearing, than mastering any sort of rotation. This should change significantly with this Update.

Lastly, I do think many meta Builds will shift after this Update, and probably more so than in recent Updates. Many morphs have more meaningful options, making it tough to decide just which you'll want to use, particularly when it comes to Weapon Skills. I look forward to seeing what people come up with, and if anything it should at least create some change in a game that tends to hold the meta for a good amount of time.
Thoughts, everyone?