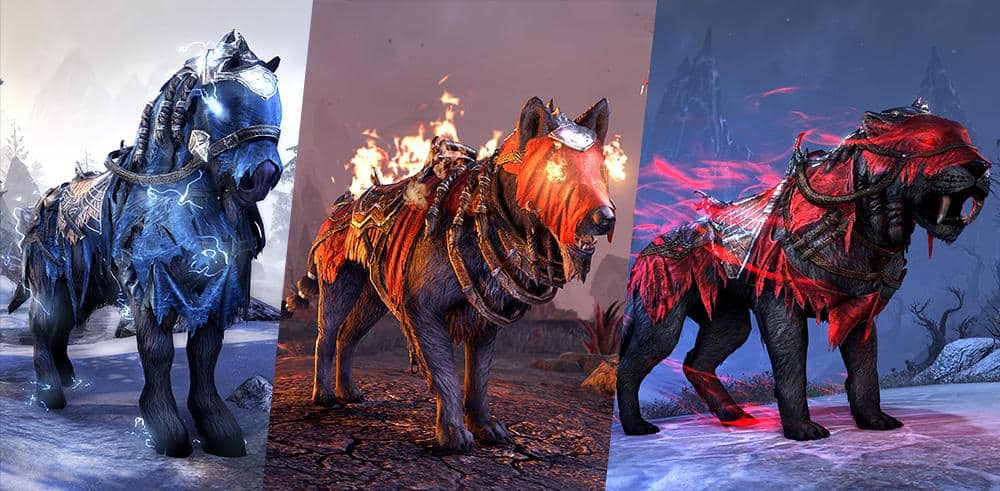 This is the official discussion thread for the
Introducing the Scalecaller Crown Crates & Giveaway Weekend
blog article.
Sinister new creatures await your command, Master. Discover a host of monstrous new collectibles and items in the all-new Scalecaller Crown Crates, coming to the Crown Store on Thursday, March 15. Check out this article to learn more about the new Crown Crate season and to find out how you can earn up to three free crates!
Here's a full list of all the new rewards contained in the Scalecaller Crown Crates:
Radiant Apex Rewards
Dragonfire Wolf
Galvanic Storm Steed
Shadow-Rider Senche
Apex Rewards
Frostbane Horse
Frostbane Camel
Frostbane Wolf
Frostbane Guar
Frostbane Bear
Frostbane Sabre Cat
Resplendent Sweetroll
Legendary Rewards
Sabre Cat
Pellitine Mustang
Great Elk
Magma Scamp
Sabre Cat Cub
Big-Eared Ginger Mouser
Senche-Tiger Cub
Decayed Zombie
Grand Gold Coast Experience Scroll
Instant All Research, Major
Peryite, The Taskmaster
Tapestry of Peryite
Banner of Peryite
Bone Dragon Summons Focus
Crown Crafting Motif: Dro-m'Athra Style
Crown Crafting Motif: Silken Ring Style
Crown Crafting Motif: Mazzatun Style
Dragon Priest
Tusked Dragon Priest Mask
Archaic Dragon Priest Mask
Epic Rewards
Gold-Cap Shroom Shalk
Flameback Boar
Malefic Standing Collar Hood
Wayrest Suede Doublet Ensemble
"Vested Interest" Banquet Garb
Desert Garden Gala Overdress
Soiree in Camlorn Evening Suit
Majestic "Dune Rider" Ensemble
Necromantic Sigil Face Tattoos
Necromantic Sigil Body Tattoos
Dragon Vassal Face Markings
Dragon Vassal Body Markings
Scalecaller Frost Shard
Instant All Research
Major Gold Coast Experience Scroll
Superior Rewards
Ruffian's Turban Balaclava
Sacred Rhombus Circlet
Beaded Skull Chaplet
Serpent Scale Face Marking
Serpent Scale Body Marking
Dragonbone Chain Body Marking
Dragonbone Chain Face Marking
Star-Brow Diadem
Eternal Hunger Coronal
Scholar
Scalecaller Rune of Levitation
Housecat
Tan Morthal Mastiff
Line in Sand
Kick the Dirt
Come Get Some
Flip the Bird
I See You
Fine Rewards
Crown Combat Mystic's Stew
Crown Lesson: Riding Capacity
Crown Lesson: Riding Speed
Crown Lesson: Riding Stamina
Crown Repair Kit
Crown Soul Gem
Crown Stout Magic Liqueur
Crown Vigorous Ragout
Crown Vigorous Tincture
Gold Coast Experience Scrolls
Common Rewards
Crown Lethal Poison
Crown Mimic Stone
Crown Tri-Restoration Potion
Gold Coast Debilitating Poison
Gold Coast Draining Poision
Gold Coast Enfeebling Poision
Gold Coast Spellcaster Elixir
Gold Coast Survivor Elixir
Gold Coast Swift Survivor Elixir
Gold Coast Trapping Poison
Gold Coast Warrior Elixir
Which of the sinister new items are you hoping to get out of your Scalecaller Crown Crates? Tell us in the comments below, or on Twitter at
TESOnline
!
Edited by ZOS_JessicaFolsom on March 8, 2018 7:27PM