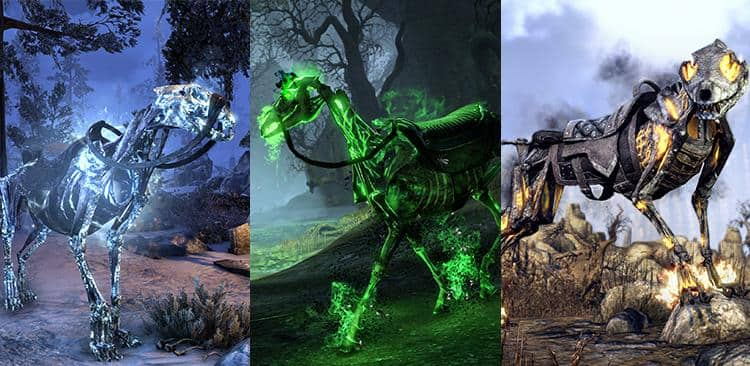 This is the official discussion thread for the Introducing the
Discover the Reaper's Harvest and Earn Free Crown Crates this Weekend!
blog article.
The Reaper's Harvest Crown Crate season looms, and the visage of death rises like an ominous constellation!
Here's a full list of all the new rewards contained in the Reaper's Harvest Crown Crates:
Apex rewards
Cinder Wolf
Frost Draugr Senche
Plague Husk Horse
Resplendent Sweetroll
Skeletal Bear
Skeletal Camel
Skeletal Guar
Skeletal Horse
Skeletal Senche
Skeletal Wolf
Legendary rewards
Banner of Sheogorath
Black Bear
Black Bear Cub
Bull-Heart Skull Sallet
Cinder Mask
Crown Crafting Motif 36: Dark Brotherhood Style
Crown Crafting Motif 47: Buoyant Armiger Style
Crown Crafting Motif 48: Ashlander Style
Dragon Warrior
Grand Gold Coast Experience Scroll
Instant All Research, Major
Kagouti
Murderous Strike
Senche-Lioness
Sheogorath Costume
Stag-Heart Skull Sallet
Statue of Sheogorath, the Madgod
Tapestry of Sheogorath
Winterhold Blizzard Hood
Epic rewards
Death Grin Body Tattoo
Death Grin Face Tattoo
Inkwing Death Crow Body Tattoo
Inkwing Death Crow Face Tattoo
Karthwolf Body Tattoo
Karthwolf Face Tattoo
Major Gold Coast Experience Scroll
Pirate First Mate's Outfit
Pirate Sash and Bandolier Garb
Pirate Swab Outfit
Shadowghost Guar
Shadowghost Pack Wolf
Shadowghost Senche-Panther
Summit Lord's Silken Robes
Swarm of Crows
Whisperweft Gala Wear
Superior rewards
Azure Sky Blue Lip Tint
Colovian Badger
Crow's Calling
Darloc Brae Beast Mask
Death Grin Skull Mask
Dominion Cult Body Tattoo
Dominion Scout
Dragon Cult Body Tattoo
Dragon Cult Face Tattoo
Dreadhorn Body Tattoo
Dreadhorn Face Tattoo
Jaqspur
Nocturnal Indigo Lip Tint
Northern Lynx
Sanguine's Rose Red Lip Tint
Serpentine Interlace Body Tattoo
Serpentine Interlace Face Tattoo
Wood Elf Vanguard
The
Fine reward category
remains unchanged. For the
Common reward category
, the
Crown Invisibility Potion
was removed and the
Swift Survivor Potion
was added.
Are you hoping to score a specific spooky item out of the Reaper's Harvest Crown Crates? Tell us what it is in the comments below, or on Twitter at
TESOnline
!