Wish to Explore all of Tamriel with immersive clues for each quest instead of just following waypoints?
Enhance your gaming experience by obtaining the Immersive Quests Addon along with the Pinkiller Addon, and immerse yourself in the world of TES3 Morrowind with guided journal directions, without the use of way markers.
Our writing and playtesting team has just concluded their efforts, resulting in the creation of 4 playable zones:
Bal Foyen, Bleakrock isle, Khenarthi's roost, and Auridon.
If you possess a passion for writing or playtesting, come join our team and win some exciting rewards!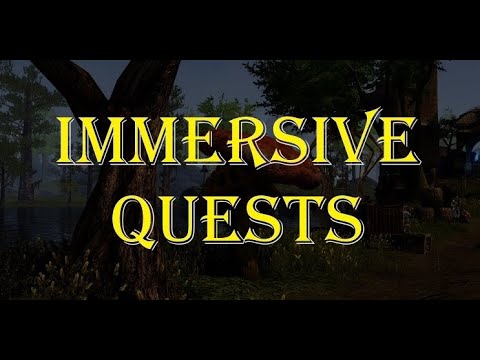 https://www.youtube.com/watch?v=FA8OmLh17QQ
Edited by ZOS_Icy on 12 February 2023 17:29
Immersive Quests Addon
---
Wish to Quest without Quest Way Markers? ''Talk to the Hooded Figure'' Turns into ''Talk to the Hooded Figure, who is feeding the chickens near the southeastern gate in the city of Daggerfall in Glenumbra.'' If you Wish To write bread crumbs clues for quest for other players to experience come join the team!
---
List of Immersion Addons