When investigating why Combat Metrics was having trouble tracking the uptime of the Spell Strategist Buff and Debuff, I found that the buff could be applied a second time to the target after the 4s Cooldown is over.
https://youtu.be/8OlDga51S7Q
The effect would then stack to grant twice the mentioned spell damage bonus for the brief period until the first buff runs out.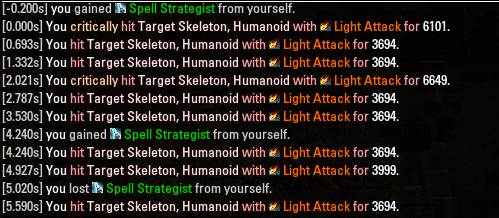 In the screenshot all noncrit attacks are 3694 only the one that hits when Spell strategist is up twice is increased to 3999
Normally in such cases the previous buff would stop, followed by the immediate application of the new buff, like shown below (at 19.5s):

Is it intended that Spell Strategist can be up twice on the same target and stack or is this a bug?
Edited by Solinur on October 30, 2018 9:39PM
@Solinur
Pact EU - PC (
Solinur
: Templar - Magicka DD,
Moves-like-Günther
: Sorcerer - Stamina DD,
Kinara Sol
: Templar - Stamina DD, )
Addon Author