Hello,
Dean the Cat here. Been reading a lot of "Nerf this" and "Nerf that" styled threads over the past few weeks (Seriously people, do you guys have nothing better to do then to call nerfs on everything?). I would therefore like to discuss about the general mechanics and concepts that make whatever that is described in the "Nerf" styled threads possible.
There is no TL;DR version of this thread. This will be a long read. Also, keep all discussion about bugs and exploits out of this thread. This thread is made on the assumption that everything is working as intended, and no bugs/exploits are used.
Look over the past few weeks. You'll find that the forums are proliferated with threads like "Skill XYZ is too strong, nerf please!" or "Skill ABC can be spammed too many times, nerf nao!" and even "If you nerf this skill, make sure you nerf that one too! We must all be equal under the nerfhammer!". Do you notice a common trend among all these?
<<< Sounds familiar?
Everything complained about in the threads are only possible because of a lack of limits on character power, and power creep that has set in with the advent of VR16 gear and the Champion System
For people who would like to understand what power creep is, here is a link to a video explaining it.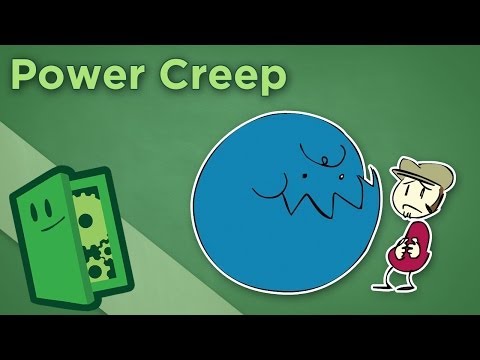 https://youtu.be/Bxszx60ZwGw
In ESO's case, let's take a look at the recent (2015) changes that have contributed to the sheer amount of power creep that we have today.
1)
VR16 Gear
. These gear at legendary quality are miles ahead of previous tiers of gear. A VR12 Legendary Sword gives 1102 Damage. A VR14 Legendary Sword gives 1132 Damage. A VR16 Legendary Sword gives 1332 Weapon Damage. A VR14 Armor Glyph gives approximately 650 Stam/Magicka. A VR16 Armor Glyph gives approximately 850 Stam/Magicka. VR14 Spell/Weapon Damage Jewlery Enchants give 133 Spell/Weapon Damage. VR16 versions give 174 Spell/Weapon Damage. Do you notice a trend here?
VR16 gear has completely bucked the previously set standards in terms of character power progression per level. In the past, upgrading from Legendary VR10>>VR12>>VR14 only brought marginal benefits in terms of stat improvement. However, there is a massive gap between VR14 and VR16 gear. If the trend of marginal benefits had continued, our VR16 gear of today would be equal to approximately
VR20
in terms of item strength.
To balance the sheer power of VR16 gear in it's current form, a 50% damage nerf had to be applied to Cyrodiil. What this has done is render everyone except the armed-to-the-teeth VR16 characters with fully kitted out gear irrelevant in the grand scheme, and has created literal walking gods amongst the population. A few days ago, in Haderus, I managed to perform a solo keep defense against a full zerg of 30 odd DC players. There were no VR16s amongst them, and I had fully kitted VR16 gear. They literally had no chance to take me down, with their attacks barely doing 1-2k damage to my health, whereas my attacks were hitting for 8-13k damage to them, often two-shotting them. The keep only fell when two VR16 DC players showed up, and those two players proved to be way more of a threat then the entire DC zerg combined. Is this really what we want?
2)
Champion System
. Let's face it. The champion system threw whatever semblance of balance we had in the past all out of whack. We are getting % of our attributes with every single point spent, unlocking powerful passives with certain amounts of points invested and on top of it all, getting massive increases to focused aspects of our characters with investment into respective trees in the champion system. All these, while already notable by themselves, add together to form an incredibly potent combination. The stat difference between a 300 CP player and a 0CP player is incredibly significant. There is almost literally no chance a low CP character will ever kill a high CP character, assuming equal skill and neither makes a mistake. The low CP character must significantly outplay the high CP player to even have a chance at obtaining victory.
The CP system also has it's effect in PvE, where encounters are starting to be balanced around increasingly high amounts of CP (WGT and ICP anyone?), rendering anyone who has not attained critical values of Champion Points simply unwanted in groups trying to farm/get achievements. Add that to the fact that for most players, the desireable armor sets are locked behind the massive grindwall that is WGT and ICP. This prevents players from fully gearing, thus exacerbating the problem that is VR16 geared players vs everyone else.
3)
Softcap Removal
. Softcap removal removed the last vestiges of limits of character power. This is what makes things like 5k+ Weapon Damage or 50k Magicka builds possible. Previously, while softcaps were in place, there was an upper limit to how far character power could go. You could still try to push the envelope in terms of what is possible, but it would have been nowhere near as effective as what it is today. A lot of stuff that is possible today would never have been possible.
Remember these?
Perma-Dodge
Perma-Block
Shield-Spamming
Instagib combos
Perma-Bolt
Perma-Cloak
(To a lesser extent) Breath of Life spam
None of these would have even been possible if the previous limits on character power were still in place. All those nerfs that had happened (Bolt, Shields, Block, Dodge, Damage) would have never been needed to be implemented. We have gone drunk on the sheer amount of power afforded to us by the removal of limits, and have created our own monsters. This has resulted in us creating nerf thread after nerf thread, and further distorting the balance of power. At this rate, we will be playing the exact same class by the end of next year, just with different animations.
"The haft of the arrow had been feathered with one of the eagle's own plumes. We often give our enemies the means of our own destruction."
- Aesop
Now that we have taken at look at what is possible and why it's detrimental to gameplay, let's look at possible mitigation suggestions.
1) Reinstate a softer version of Softcaps. The previous diminishing returns from softcaps was too harsh, as a 50% DR resulted in a "STOP PUTTING POINTS HERE NOW" reaction for most people in the community. A 25% (number subject to testing) DR would have been more reasonable, enough to allow variance in builds while not provoking the previous response that most people had. Softcaps place limits on character power, and ensure that power creep doesn't become too significant.

2) Reduce the bonuses from the Champion System. The % of attributes gained from the Champion System along with the high % bonus for investing into various stars make a huge impact on power creep. By reducing the impact of stat gain (Eg. 25% at 100pts Elemental Expert -> 15%), this allows the Champion System to allow for varied builds, while not completely throwing the balance out of whack. In addition, the current scaling of the bonuses are too linear, and it should be changed to provide an even larger % of the bonus at lower CP values, thereby increases the DR of stacking a single star.

3) Reduce the effectiveness of VR16 gear OR buff VR14 gear to be somewhat competitive with VR16 Gear. This allows lower VR players/undergeared players to be somewhat relevant, instead of being completely obsolete in the current state of affairs. This will even out the sheer amount of stat difference between the players, and promote varied builds while keeping power creep under control. There are many sets at VR12 and VR14 that are interesting to use, but the sheer power of VR16 gear renders them obsolete in anything but the most focused builds.

4) (PVP)Revert various nerfs to siege engines. Partially to combat zergs and also partially to combat lag. Various siege engines were nerfed over the course of the last two years, with the most significant being Oil Catapult's purgeable snare, and the height restriction on Oils. Powerful engines of war means that less reliance is placed on individual player stats, which gives anyone the chance to compete and remain relevant. PvP is where class balance matters the most, and if there were means to combat the innate imbalances of classes in various situations with Siege Engines, there would be much lesser "nerfs" needed overall. Give an equalizer to the players, and give a chance of counterplay to the equalizer. Siege Engines serve that niche perfectly.
Once power creep has been put in check, we can revert nerfs that were done to various abilities. Abilities like Bolt Escape and vital defensive moves like Blocking and Dodging can be reverted to their former glory, as without the current power level of stats to fuel it, they will never reach the level of cheesiness they did in the height of their power back in 1.6. With damage reigned in due to the implementation of softcaps, the damage mitigation in Cyrodiil can be reduced, thereby ensuring more players can remain relevant, while not allowing fully geared players to completely dominate the battlefield as they currently do in the current implementation of 1.7.
What are your thoughts?
Dean the Cat
Somewhat Insane Puddicat
EU-PC Megaserver; Ebonheart Pact,
Alliance Rank 34
This one hails from far Singapore, excuse this one for his high pings. He also apologizes for any formatting/spelling errors, as he tends to answer using a mobile device.
Insanity is the price of Knowledge. Herma-Mora and Sheogorath, this one bows before thee.
This one does not advocate for any class to be nerfed. There are far deeper underlying issues then a simple "Class Imbalance". The Champion System is the problem. Not classes.
Please read this before creating yet another nerf thread.
My guides: